VIDEO: Dr. Mugo might be rogue, but he is our son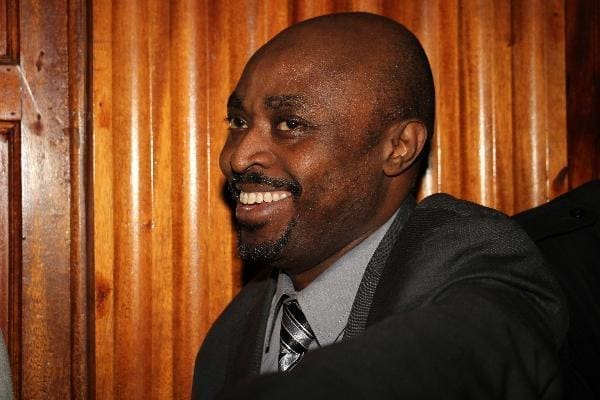 "He is my son, of whom I am proud. Even if you came with a big gun and asked me to deny him, I would die defending him."
Those were the words of Mrs Regina Wairimu Ndichu, mother of James Mugo Ndichu, whose medical credential are in dispute.
GRADUATION
Mrs Wairimu, who prefers to be called "Nyina wa Mugo", welcomed the media to her home near Dagoretti Market and said she was as shocked as anyone else, about how his son had turned out.
"There are lies about my son. They said he did not study at the University, yet we attended his graduation on December, 10, 2000. He graduated from the Medical School at the University of Nairobi," she said, revealing pictures of his graduation and party.
540 MARKS
Mugo was born on December, 5, 1975 as the fourth born to a family of six children—five of them sons.
Mugo, she said, attended the nearby Gitiba Primary School and managed a total of 540 marks out of the possible 700 in the Kenya Certificate of Primary Education.
TOP OF CLASS
"He was the brightest pupil in the neighbourhood and there is no day he did not top the class, from Standard One to Standard Eight. The teachers had even requested that he skips some classes because he was very bright and when he was given tests for the next class, he still passed," his mother said.
She said they shared a strong bond with his son, hence his preference to be called 'Mugo wa Wairimu.'
SCHOOL FEES
When he completed his Primary School education, Mugo joined Dagoretti High School as he could not join Mang'u High School, where he had been admitted because he lacked the required school fees.
"He could be sometimes sent home for fees. But when he sat for his final secondary school examinations, he still managed to score a B+ (plus)," Mugo's father, Simon Ndichu Ndongi said.
EQUIPMENT
With the high grades, Mugo joined the University Of Nairobi School Of Medicine. He attended classes at the Chiromo Campus for two years and then moved to the campus at the Kenyatta National Hospital, his parents said.
His mother said that while still a student, Mugo worked at the Chiromo Mortuary to raise some money for his education. He later sold some of the protective clothes bought by his parents and bought some medical equipment that enabled him to start a private clinic.
ATTACHMENT
"By the time he was graduating, he had a running clinic and he chose not to attend the attachment that was required for him to be absorbed by the Government. I think this is the only mistake he made in his life.
"Otherwise, he is a qualified doctor," Mrs Ndichu said, adding, he had treated many people including his neighbours. The private clinic, she said, enabled Mugo to open a big hospital in Kasarani, where he even offered free services to people who could not pay.
COMPETITORS
"Everyone who has been treated by my son will tell you that he offered services that were better than even big hospitals. Ask anyone!," his father said, adding that he suspected that some competitors had conspired to ruin Mugo's reputation in Kasarani in 2015.
He said since his son was arrested after the first exposé by the media, he stopped visiting home frequently. His wife left him, and his clinic was closed.
EXAGGERATED
"That was the time my son's life changed. They conspired against him and succeeded. He may have many flaws, but I am sure the allegations made against my son have been exaggerated. I do not live with him and so I do not know what he did and what he did not," Mr Ndichu said, adding, he had left his son's future to fate.
Mugo visited home three months ago, according to his parents, but he did not spend much time there.
MOLESTED
He rarely does because of stigma from allegations in 2015 that he molested a sedated patient in his clinic. He last spoke to his parents on phone three weeks ago.
Neighbours said that until 2015, Mugo was the village's most talked about son for having worked hard to build his own medical practice.
The parents said they did not know his whereabouts and they were praying for him.
FLYING SQUAD
Police are looking for Mugo,  who went missing after NTV aired a chilling exposé revealing how he run another unlicensed clinic in Kayole, abused drugs and raped sedated patients. The Directorate of Criminal Investigations, DCI, has deployed the Special Crimes Prevention Unit, SCPU and the Flying Squad to track him.
VIDEO: Dr. Mugo might be rogue, but he is our son