Migrants Earning Under £30,000 A Year Face Tough Times In UK.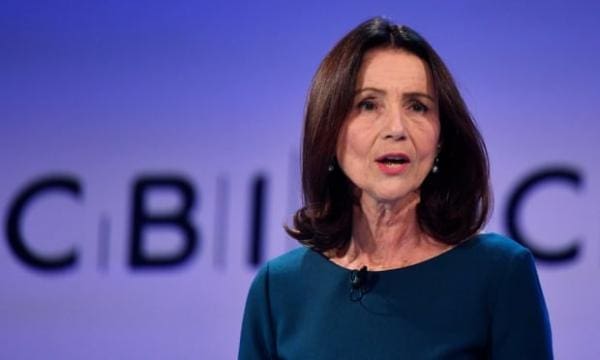 A new immigration system that places severe limits on low-skilled immigration risks inflicting "massive damage" to livelihoods and communities, one of Britain's most senior business figures has warned.
Carolyn Fairbairn, head of the Confederation of British Industry, issued her sternest warning to date about the new "global system" being drawn up by the government, which is expected to place major restrictions on visas for low-skilled workers. The business community, she said, was very concerned about suggestions that migrants earning under £30,000 a year might struggle to win the right to work in the UK.
"This idea that there's a £30,000 cap below which is described as low-skilled and not welcome in the UK is a damaging perspective for government to have for our economy," she said. "People earning less than £30,000 make a hugely valuable contribution to our economy and society, from lab technicians to people in the food industry.
"Many of our universities have staff on less than £30,000. So our offer to government is to work with us. We understand the challenge of building public trust, but we think there are much better answers."
Her comments came in the week that Theresa May claimed that British firms struggling to fill low-skilled jobs should train British workers to fill any gaps. While the cabinet has agreed on the principle that all migrants should be treated the same after Brexit, with EU citizens no longer given preferential treatment, the government's white paper on the new system has still not been published.
Pro-business ministers such as the chancellor, Philip Hammond, and the business secretary, Greg Clark, have been keen to heed the warnings of industry about introducing strict rules too quickly. However, May won support for a tougher system after the independent migration advisory committee (MAC) backed a clampdown on low-skilled workers.
Fairbairn said: "Our economy is hugely reliant in absolutely critical sectors on people who are so-called low-skilled, such as our care sector, caring for the older generation. We have a nursing shortage. This is a massively important sector.
"It is reasonable to want to bring the level of immigration down. But we must not underestimate the scale of the change that this would mean to our economy and the massive damage it would do to livelihoods and communities if we move too quickly.
"At the very least, we need to recognise there needs to be a transition period that needs to be reasonably long. Businesses can adapt, but they can't do that overnight. If we do procure a system like this quickly, and some of the talk is that we would bring it in very quickly after the end of the Brexittransition period, we would hugely damage our economy. Jobs will be lost, communities will be damaged. There is a strong alarm bell from business on this."
MPs have been angered by the suggestion that they may not be able to see details of the white paper before they vote on May's Brexit deal next week. Sajid Javid, the home secretary, said last week that the plan should be published before the end of the year.
A Home Office spokesperson said: "When we leave the EU, free movement under EU law will end and we will bring forward a new border and immigration system that focuses on the skills and talents people have to offer, not where they come from.
"It will ensure the UK continues to attract the people the nation needs to compete on the global stage, while ensuring that we take control of immigration, continue to secure our border, and reduce net migration to sustainable levels."