Optiven signs agreement with Kuds sacco to empower Kenyans in Diaspora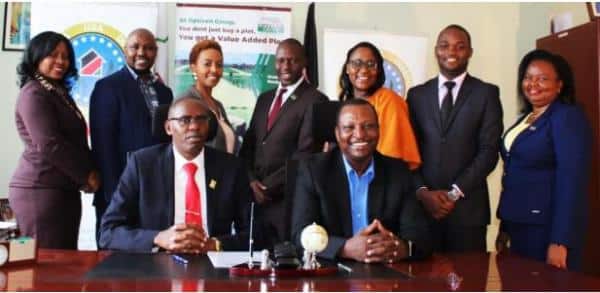 Nairobi | 10th December 2018: The Optiven Group, Kenya's leading real estate company has today got into an agreement with the Kenya USA Diaspora Sacco. The signing ceremony was held at the Optiven Group Head Office on Barclays Plaza – Loita Street. Representatives from both Optiven Group and the Kenya USA Diaspora Sacco were at hand to witness the ceremony. Speaking during the event, Mr. George Wachiuri, the Chief Executive at the Optiven Group pointed out that the signing ceremony was the culmination of various consultations with the Kenya USA Diaspora Sacco which had now become a reality. Wachiuri said, "the partnership is an open door for investors who are members of the SACCO to ensure that they make their lives better by buying land from the various projects that are on offer within the Optiven Group portfolio."
The development will see investors in the SACCO access loans easily to acquire propertywithin the Optiven Group without the hustles of searching for finances. Beneficiaries underthe new agreement will be able to choose from a total of 12 different preferred projects allwhich have different levels of value addition. Speaking after the event, Mr. Simon Nyagah,Chairman of the Kenya USA Diaspora Sacco said, "this agreement is an opportunity formembers of the Kenya USA Diaspora Sacco to be economically and socially empoweredthrough acquiring properties. As a Sacco we are determined to lift the profiles of our people inthe knowledge that finance should not be a problem to our members. Under this agreementwith Optiven Group, we are confident that our members will benefit without the hustles thathave been witnessed for investors in real estate." Mr. Nyagah lauded the initiative which hesaid will ensure that more members of the SACCO will invest in real estate as well as developtheir investments as funds are now available.
NOTES TO THE EDITOR ABOUT Optiven Group It is a leading brand in the African real estate sector with the main objective being to empower property investors and transform the Society. The Group has a number of flourishing Strategic Business Units (SBUs) including Optiven Construction. Captained by its Founder and CEO, George Wachiuri, the Group is rightly living up to its mission, which is to create an environment that positively transforms its staff, customers and all its stakeholders through offering state of the art products and services. Optiven's flagship product is Value Added Plots, which are particularly enhanced to suit immediate residential settlement, commercial purposes and futuristic capital gain.
ABOUT Kenya USA Diaspora Sacco It promotes investment opportunities and savings among Kenyans residing in the United States of America, Europe and the United Kingdom. This provides the members a reliable and organized way to invest, access to affordable credit, carry out projects, build businesses, or meet personal and family needs in Kenya.
For more information contact us on [email protected] or call us on 0702 83 10 83 www.optiven.co.ke The Optiven Group | Experience the Difference.