I saw suspicious people at DusitD2 days before attack – Waiguru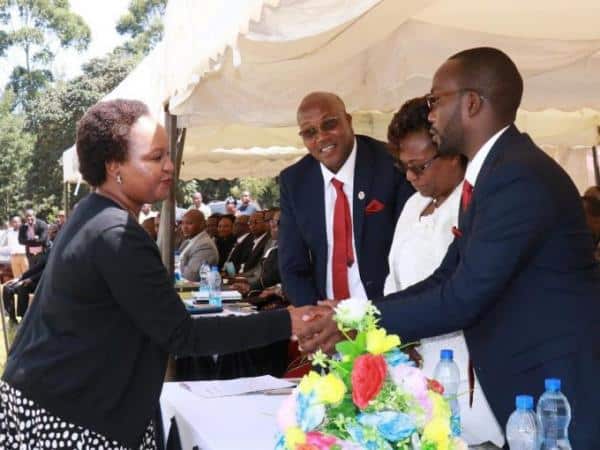 Kirinyaga Governor Ann Waiguru on Friday said she saw suspicious people at the DusitD2 hotel five days before the terror attack that left 21 dead.
Waiguru said she regrets to not have reported to police.
"I was attending a birthday party of a friend when I saw two guys moving around the hotel and my instincts arose since I had dismissed my security detail. They walked around then they left," she said.
Speaking at Nguguini primary school in Kiaragana during the burial of 23-year-old Wilfred Kareithi who was killed during the attack, Waiguru said the two suspicious characters came to the hotel through a back entrance.
"When I learnt of the attack, I gave the investigating agencies information on what I had seen on a Thursday the previous week," she said.
Waiguru called on members of the public to be vigilant and report suspicious characters to security agencies to avert similar attacks.
"'Had I acted on my instincts and informed the authorities may be the attack could not have happened, but I never suspected they could be terrorists," she said.
An emotional Waiguru called on parents to monitor their children and question their source of income.
She also urged parents to report to government authorities whenever they suspect their children have crossed over to Somalia.
Kirinyaga women rep Wangui Ngirici regretted that two sons from the County were victims of the attack.
Others present during the burial ceremony were deputy governor Peter Ndambiri, former senator Daniel Karaba, former county assembly speaker Anne Githinji and Ndia MP George Kariuki.
Family and friends of Karethi described him as a humble, intelligent and hard working young man.
His colleagues from cellutant corporation said Kareithi was attending training on first aid at a hotel in the complex but had dashed to the office to attend to a clients issue when the terrorists attacked at 3 PM.
Some 100 employees of the company were on duty during the terror attack though Karethi and his colleagues helped evacuate 83 of the employees through a back entrance before the terrorists realised the exit route and started firing in the direction.
The company CEO Ken Njoroge said Kareithi and his five colleagues found a room beneath a staircase where they hid but were later found by the terrorists who introduced themselves as members from Al Shabaab before killing them.
Only a lady in the room who was shielded by the men survived the attack.
On Thursday John Nderitu another employee was buried in Ngurubani, Mwea constituency.