Ray of Hope as Rosemary Odinga Regains Partial Sight

Ray of Hope as Rosemary Odinga Regains Partial Sight

There was a clear reason for renewed optimism within the Odinga family, following Rosemary Odinga's actions during the late Jaramogi Oginga Odinga silver anniversary held over the weekend, at St. Stephens ACK Cathedral in Kisumu.
Dr. Oburu Odinga, the family's spokesperson, went on to reveal that Rosemary was well on her to full recovery.
"As you know Rosemary was sick but we thank God she has now recovered fully she is a true Odinga and a fighter. This is evident in the spirit she has fought this illness with," he asserted.
Her mother, Ida Odinga, went on to clarify that the reason for their absence during the previous years' similarly themed function was because Rosemary needed to undergo specialized surgery in China at the time.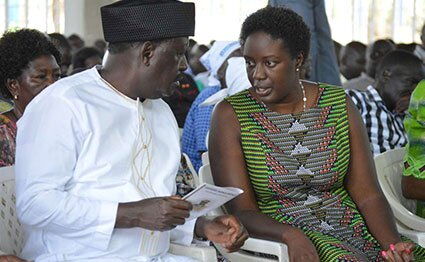 Her greatly improved condition was visible during the event in honour of her grandfather.
The former Prime Minister's daughter ditched her customary dark glasses as she made her way through the church.
Raila held her hand during the procession, and despite having her white cane on her other hand, some of her actions affirmed that she was potentially on her way to regaining her sight.
She was spotted scrolling through her phone on numerous occasions during the ceremony, but it was her solo unaided walk up the church's three-step-stairs to make her offering that warmed the hearts of everyone in attendance.
Rosemary went on to give her speech alongside her cousin, Jaoko Oburu, during which she paid a heartfelt tribute to her grandfather, who she described as a kind man.
The ODM party leaders' daughter had suffered the unfortunate mild stroke in February 2017 as a result of a brain tumour, while at the peak of her campaigns to become the Member of Parliament for Kibra Constituency.
The Odinga family expressed optimism that Rosemary will make a full recovery and went on to urge the congregation to keep them in their prayers.
Ray of Hope as Rosemary Odinga Regains Partial Sight