You can call me watermelon or Uncle Steve, I've accepted tags – Kalonzo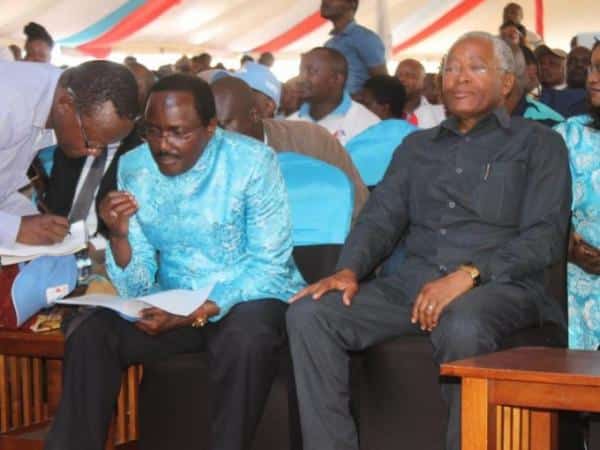 Wiper leader Kalonzo Musyoka has criticised politicians he accuses of abusing him because of his "unshaken principles".
Kalonzo said he not only accepts the name 'watermelon' but also 'Uncle Steve', adding he is an uncle to youths, many of whom are jobless.
"In 2002, everyone wanted me to be loyal to retired President Daniel Moi on his Uhuru project but I refused. That is what made Mwai Kibaki President. I disagreed with Moi on Uhuru's candidature," said Kalonzo.
"We have stood with principles. In 2010, the church was opposed to the constitutional amendment but I stood with principles. I have accepted the name watermelon," he added.
Kalonzo spoke on Friday during the Kamba Leaders Convention themed Koma 2 at Kamba Primary School in Matungulu, Machakos county.
"Let's save the country; if you have principles you are called names. I am not only a watermelon but Uncle Steve, uncle of all youths across the country going forward," he said.
Kalonzo said politicians should seize politics and instead focus on uniting and building the country.
"One reason for uniting with Uhuru is to end corruption. Even if it is your brother being arrested for being corrupt, let him be arrested. Youths have no jobs," he said.
Kalonzo said the Constitution should be amended to give room for all Kenyan communities to get the chance to produce a President.
The Wiper leader, however, told off critics who claim he failed to develop Ukambani during the many years he has been in leadership.
He said he has never been a governor and not had access to billions of shillings to develop the region.
"They are saying Kalonzo give us your arithmetic. When I was a Minister, I constructed Katumani–Wote road, brought peace in Somalia and Sudan, constructed Kibwezi–Kitui road but I never used public funds. I tarmacked 80km of road when I was a Vice President, my Kalonzo Musyoka Foundation has educated over 3,000 poor Kenyans, constructed Kiambere Water Project, connected homes to electricity," Kalonzo said.
He said he doesn't blow his own trumpet because his faith does not allow him to.
By GEORGE OWITI
You can call me watermelon or Uncle Steve, I've accepted tags – Kalonzo