LIES PEDDLERS AT IT AGAIN TO TARNISH THE US AMBASSADOR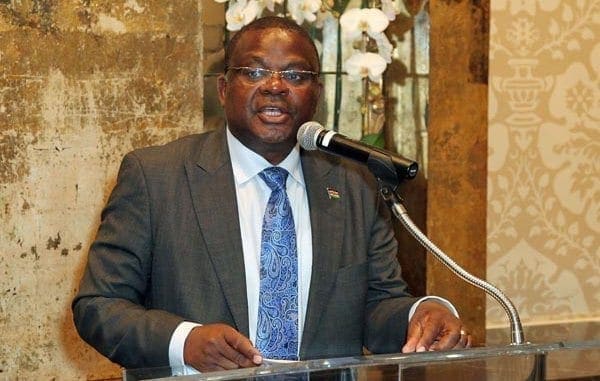 The USA whattsap groups were this week kept entertained by some idle lies peddler based in Kenya that uses other idle ne'er do well peddlers found mostly in active USA whatsapp groups.
This time it was rather amusing as they were hinting that our Ambassador Robinson Githae has opted to serve only one community referred to as Nyumba ya Muumbi.
We gave our investigative contact  a telephone of one attendant  to find out what really transpired in Houston and the outcome proved the angels of malice wrong, for the Ambassador was there on invitation from a group of serious businessmen.
We also found out that these serious business oriented people were from diversified Kenyan communities and since Kikuyu is a language that is spoken and understood by not many other tribes in Kenya then, it is obvious that many would not have grasped a word if the Ambassador talked in Kikuyu.
We also wish to inform the haters and rumor mongers that Ambassador is not a Kikuyu as he speaks a different dialect spoken by people from Kirinyaga which is closer to Embu or even Meru people than the Kikuyus.
I happen to be a Kikuyu but when I listen to a person from Kirinyaga talking, I am somehow lost and will not grasp any word they talk except a few.
To put the matter straight here is a list of participants that attended the business meeting that had invited the Ambassador.
It may appear that the Kikuyus are the majority here, but if other people were not interested to join such a group that may have invited everyone, then we cannot blame anyone as it is evident that there were other tribes that were in the meeting.
It is also not a must to involve everyone if one fees that they are not part of the proposed agenda.
We further noted that there was not a single individual from Kirinyaga county, Sub-location or even from the village, the Ambassador comes from.
We then assume that maybe their kind of village is a new digital village for the Ambassador has in the past attended many tribal groupings in USA.
With that short introduction and proving the internet jest Kings hypocritical, sly, lies peddler wrong, let us examine past activities of the Ambassador and you will agree with the writer that it is all PROPAGANDA and PURE MALICE directed at our hard working Ambassador.
It is therefore unfair and unfortunate to assume and imply that freedom of association and assembly by a united  group with a common development agenda can be termed as tribalism.
Ambassador attended an invitation by Kisii Mwene Gitinge Asscociation—Does this make the enterprising Kisii group tribalists?.
Attended Kikuyu Diaspora Media launching-Does this make Jeremy Damaris a philanthropist who helps all people from Kenya in hardship irrespective of their tribe a tribalist?.
He has attended a Kalenjin association group meeting named Gotabka- Are these serious and hard working Kenyans tribalist?
Ambassador has received an invitation from House of Mumbi Association which is a group of Kenyans with a development agenda- Though he has not attended their meeting, when he does, will the idlers complain and term it as a tribal meeting?
He has been invited to Atlanta Majuu whose majority are Kikuyus  and all with a mission to serve the people of Kenya.  They invite all Kenyans to the festival and if he attends such an important cultural festival, will the lies peddlers term the occasion  a tribal grouping.?
He has attended KWITU functions with a majority being Kikuyu ladies and many other group invitations and he will continue serving Kenyans if invited.
Ambassador schedule all the same is tight and he may not be able to fulfill each and every invitation so just understand and also ask yourself, Can we do it without the Ambassador?
We carried out preliminary investigations  after the malicious circulation did rounds and as usual all sorts of comments started circulating to the effect that the Embassy is not serving Kenyans as effective as it is supposed to do.
The most common was telephone and after we talked to the Ambassador, he told us that they are doing everything at their disposal to ensure that all enquiries are addressed without delay.
Kenyans are also strongly advised to seek answers in the Embassy website as most of the issues people get frustrated if the phone is not answered are posted on the website.
If all your documents are in order, you only need the Embassy after 10 years when your passport is about to expire and this is a fact. If you do it in Kenya during those 10 years, you may not even need the Embassy.
Those that hardly go home are the ones that get frustrated when their documents are not received as fast as they want them. You have to be aware that apart from emergency travel documents, the Embassy don't process and give documents at DC as all have to be sent to Nairobi.
Those with serious issues like investments make trips to DC and the Ambassador has an open policy and you do not require an appointment. If available he will attend you.
Many people we talked to all had the stereo type generalization about poor service at the Embassy but when stressed to give a specific case, they became wild almost to an extent of abusing our correspondent.
There was one who confessed that he at one time called the Embassy and after directed to voicemail left a provocative and abusive message. How do you expect to be served if you do so.
Then there was another category that have a habit of calling the Embassy with issues that the Embassy are not mandated to do like transporting  the body of our loved one's back to Kenya. They get frustrated at an issue that the Embassy is not mandated to do and simply direct their anger to the wrong people.
The Embassy will not help you to petition the Government for a Diaspora vote or a diaspora matters Government allocation as those are Government development plans that will be implemented when necessary.
The Embassy will not help you set up a Sacco you must contact Ministry of Cooperatives and all the foreign trade office will give you is information on how to go about it.
Let people come with specific issues as the Embassy has never denied service to anyone and if there is, let him or her give the details of the case to the writer by comment. You can also email the Embassy with specific case.
If it is something to do with delay in processing documents do not direct your anger to the Embassy as they have no direct control to the processing office in Nairobi and all they do is to call Nairobi and give case numbers. If Nairobi don't process then that is where the problem lies and not Embassy.
ARE COMPLAINTS ABOUT THE EMBASSY INEFFICIENCY GENUINE?
Kenyans should stop the stereo typical generalization that Embassy do not help the Diaspora as they are here to work with guidelines in accordance with their mission statement.
The Ambassador is not obligated to attend to all church functions, weddings, funerals and other many Diaspora groupings but can do so if the function are in line with Diaspora Policy and, do not interfere with his busy schedules.
The Ambassador can attend any group meetings when invited as Kenyans are free to assemble as tribes and that is not being tribalist for they are Kenyans.
The Ambassador can decide to talk using any language if the group members are talking with a language he can understand and can fluently talk.
In all other meetings with multilingual groups, the Ambassador talks in fluent English or Swahili.
TELEPHONE COMPLAINTS:
The Embassy is like all Government offices and lines are engaged at times so be patient and call constantly and someone will answer.
If it's a question, most answers can be obtained by just using your phone to google. Answers given online are facts and you don't need clarification from Embassy.
If the Embassy has forwarded your documents you have to be patient as the problem is in Nairobi and the Embassy is impotent to push the Nairobi office due to the backlog.
If all Kenyans can go about their business and not waste time calling the Embassy for un-necessary things, then the Embassy can even work for Kenyans more effectively.
DO NOT JUST CALL THE EMBASSY TO BE NOTICED OR TO TELL THEM WHO YOU ARE IN THE DIASPORA AS YOU WILL NOT IMPRESS ANYONE.
DO YOUR JOB AND LET EMBASSY DO THEIR JOB. RESPECT THE PEOPLE THAT SERVE YOU SO THAT THEY CAN ALSO RESPECT YOU AND SERVE YOU BETTER.
This website answers all questions but if they borders near nonsense, or gibberish Mumbo Jumbo I must write jargon, they are ignored
Jean Kamau
Columnist
We are the Diaspora voice!
We fail because we do not try!