Moses Kuria is scolded on MPs official trip to Paris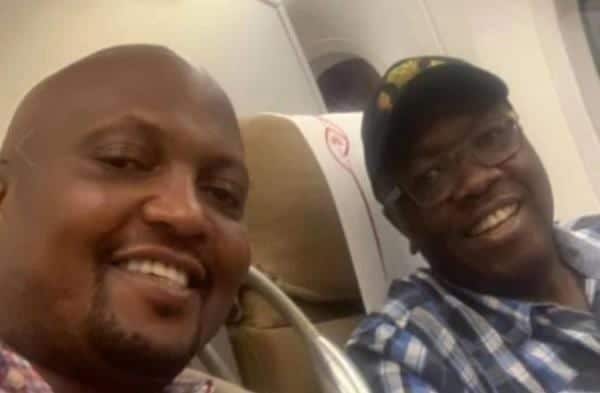 On Saturday, several members of parliament flew to Paris for a meeting with the organization for economic cooperation and development. According to Moses Kuria, who was among those who traveled, the meeting was to discuss on Public Debt Management.
"Departing Nairobi for Paris for the Organisation for Economic Cooperation & Development (OECD) Meeting on Public Debt Management with colleagues Minority Leader John Mbadi, Hon Paul Abuor (Rongo), Hon Florence Bore (Kericho) and Hon Gichuki Mugambi (Othaya). Looking forward to learning from OECD countries on how to balance between the demand for public debt, debt sustainability, and generational equity, that is how to ensure the current generation does not endanger future generations with profligate borrowing. At a time, our public debt is at an all-time high of Ksh5.8 Trillion, at a time this year alone we are expected to pump in Ksh980 Billion in debt servicing, this meeting could not have come at a better time", posted Kuria on Facebook.​
However, many of his followers on Facebook did not take his official trip positively. Here are samples to the responses the MP received.
I know the government has borrowed to finance your foreign trips to learn how to manage borrowing. You dont need to travel to learn that. My high school teacher Mr Wilson Okutoyican hammer that topic in 20 minutes time. Stop wasting tax payer's resources. You only need 3000ksh to travel to western Kenya and attend one of his classes. They were my favorite.
Njengah Wambui
flying on a debt sponsored flight, to learn about debt Management…upuzi gani hii
Parliamentarians leaving for Paris to benchmark on public debt management, while the president and opposition leader leaves for China for more debt (368 Billion)? Really?
Joe Wangosho
Chew govt goodies quietly. There is no knowledge out there that can't be found in village pubs.
Cheposeroney Mwaires
Can the Loan repayers be consulted before you Borrow? Debts are way over the roof already and you are just borrowing just for us to be taxed so as to repay… Kitaeleweka!
Traveling first class to discuss the obvious. This government is a total disgrace
Gitonga Limberria Naibae
When you're eating together and when you're milking us dry, you don't fight or abuse one another.
We've learned our lessons very well.
By Bosco Marita