CS Wamalwa Haunted by Sh6.5 Million Debt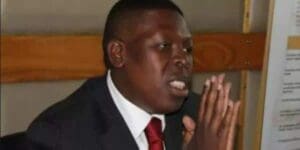 CS Wamalwa Haunted: The Kenya Revenue Authority (KRA) has revealed that it impounded Water Cabinet Secretary Eugene Wamalwa's car due to an outstanding debt.
According to records submitted to the High Court, KRA indicated that the Minister's Range Rover had an outstanding custom duty balance of Sh6.5 Million.
CS Wamalwa Haunted
The taxman stated that the luxurious car had the highest debt among 11 vehicles which were impounded last week for inspection over allegations of improper registration and unpaid taxes.
Owners of the vehicles moved to court to block the levy collector from detaining the cars, prompting Justice Isaac Lenaola to order KRA to produce a list of debts by every petitioner.
Earlier on, the Authority stated that Wamalwa's car had originally been registered as a truck but Wamalwa's aide disputed the allegations, stating that the CS was a second-hand owner and blamed KRA for failing to update its records.
In an earlier order issued by Lenaola, the KRA was barred from confining the vehicles until Thursday, when disputing parties would agree on how to settle the debts.
Days ago, KRA released a list of 124 vehicles suspected to have illegally made their way into the local market under the disguise of transit goods, but were later sold to unsuspecting customers.
This was followed by a massive crackdown in various car bazaars where posh vehicles ready for sale were netted without registration numbers.