VIDEO: Citizen TV Journalists Light Up Dance Floor at Sam Gituku's Wedding
Citizen TV Journalists Light Up Dance Floor: A wedding is a joyous occasion which not only involves the exchange of vows but a flurry of celebratory activities right from the church to the reception and the eventual after party.
In any African wedding, dancing is at the core of the reception in celebration of the newlywed couple and Citizen TV anchor Sam Gituku's nuptials was no different.
His colleagues from Royal Media Services (RMS) put their best foot forward as they joyously got down to the beat while presenting their gifts to the couple.
In the front line were senior Swahili anchor Lulu Hassan and political affairs reporter Stephen Letoo who did more than just set the train for their workmates.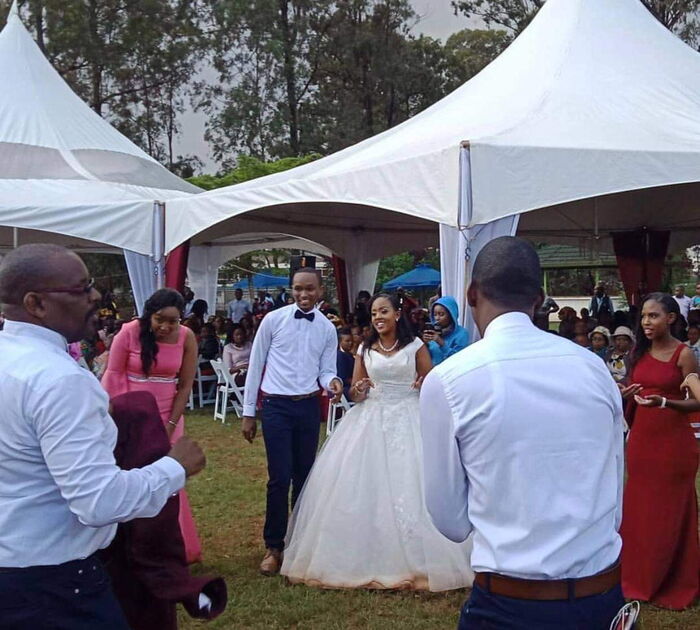 Also in the line were sports journalist Bernard Ndong and Jacque Maribe who despite carrying their gifts, produced some well-executed dance moves.
Not to be left behind were senior anchors Jamila Mohamed and Rashid Abdallah who gave the younger journalists a run for their money.
Approaching the couple, the scribes formed a dance circle where, one after the other, they unleashed their moves.
Letoo led with the traditional Masai jump dance as Hassan Mugambi took over with the South African style "gwara gwara".
Gituku and his bride Ivy Waitherero, a news director at the station, partook in the dancing as their guests wished them the best in their new life together.
By MICHAEL MUSYOKA
Citizen TV journalist Sam Gituku ties the knot