VIDEO: Watch President Uhuru In Mosque Worshiping Allah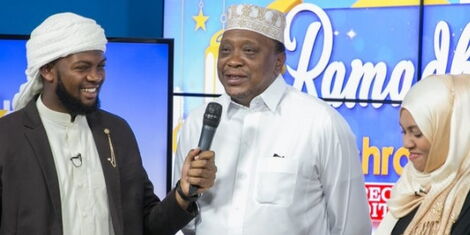 Uhuru In Mosque Worshiping Allah: President Uhuru Kenyatta was taught how to conduct prayers to Allah when he visited Jamia Mosque, Nairobi on Thursday.
He had joined the Muslim faithful for Iftar which is the evening meal with which Muslims end their daily Ramadhan fast at sunset.
To be able to access the mosque, the president and his aides had to abide by certain regulations.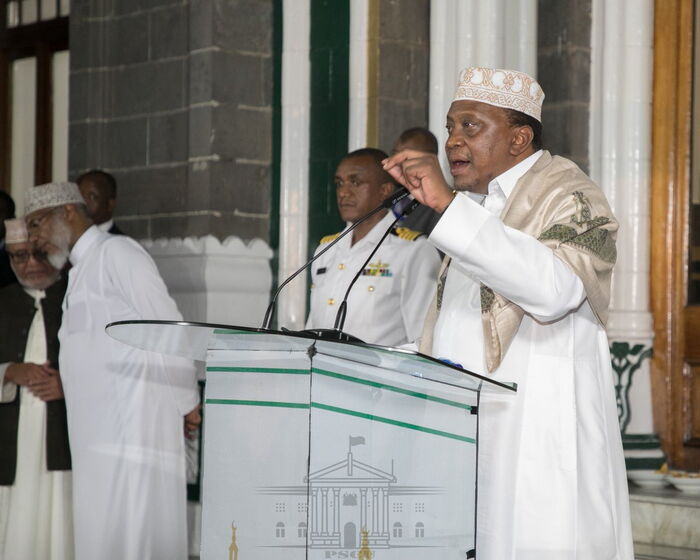 First, he had to wear a white robe known as a kanzu and a white taqiya (hat). He was also not allowed to wear his shoes inside.
Uhuru In Mosque Worshiping Allah
When he rose to speak, the president, who was jokingly nicknamed Sheikh by National Assembly Majority Leader Aden Duale, sent his goodwill message to Muslims all over the country.
He also disclosed that when an opportunity to amend the constitution comes up, his administration will ingrain one of their religious holidays and a public holiday.
The president ended his speech by disclosing that he had now learned how to pray and welcomed future invitations to interact with Muslims.
For being the first president to visit the mosque and joining Iftar, Uhuru received a carton full of Qurans to distribute as he wishes.
Earlier, President Kenyatta flagged off foodstuff destined for various mosques.
The food consisting of 480 bags of rice, 340 bags of beans, 190 cartons of cooking oil as well as a truckload of cattle was to be delivered to 13 mosques within Nairobi and distributed to the needy.
By DENIS MWANGI