Gilbert Deya defends Pastor Ng'ang'a over rant,calls him"My Son"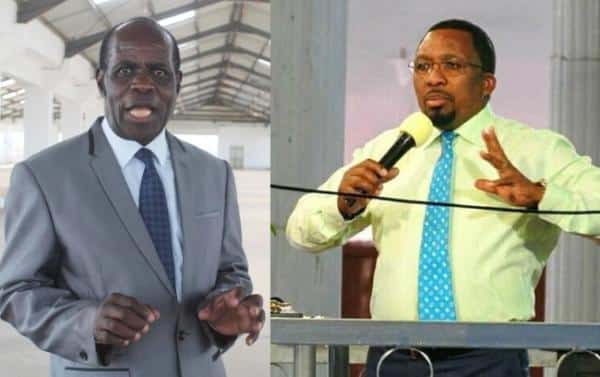 Gilbert Deya defends Pastor Ng'ang'a: Controversial preacher Gilbert Deya has defended James Ng'ang'a over his tirade that created nationwide debate, with some opining the Neno Evangelism founder's language was uncouth for a preacher.
"If you are not going to respect my wife I will kick you out of my Ministry it doesn't matter who you are. This time I will show you my power. If you don't respect her, leave my Church and go start your own wajinga hawa. You have become rich in my church. Stupid, allogant (sic), useless people, taka taka, rubbish. There is nothing you can tell me… They want to bring Neno down because I'm the founder.
"I want full respect when I cough you answer, just the same way you did when you came here with torn clothes, and you're rich because of me," said Ng'ang'a in a widely circulated video.
Ng'ang'a is my son
While referring to Ng'ang'a as his 'son,' Deya instead pointed an accusatory finger at Neno Evangelism's bishops for getting entangled with the preacher's wife.
"Pastor Ng'ang'a is a man of God. He made no mistake at all because they were picking on his wife. Calling them 'takataka' was not an abuse since he brought them into his ministry," said Deya.
He further claimed to have assisted Ng'ang'a set up his church and even bought him TV airtime.
"In fact, Ng'ang'a passed through my hands. I even paid for him airtime worth Sh240,000 on Kenya Broadcasting Corporation.
"I took Ng'ang'a to Nigeria and the UK. He didn't even know English," said Deya.
Cheating on wife
In a recent interview with Standard Digital Videos Deya also admitted to cheating on his wife Mary Deya while in the UK for 15 years in a bid to protect himself from prostate cancer.
"I could not be (sic) without a woman," revealed the preacher who has since separated with his wife.
Engagement to 27-year old
Deya also revealed that he is currently engaged to a 27-year-old lady he met in Nairobi.
"Our age gap is 50 years," he said.
He also addressed the 'sponsor' culture in Kenya, saying that "If there are any girls who use older men for monetary gains, they are prostitutes."
-sde.co.ke