Kenyan doctor studying in Havana Cuba Dies
Pallbearers carry a casket draped with the Kenyan flag
A Kenyan doctor studying in Havana, Cuba under the framework of the MoU between Kenya and Cuba died on Sunday, March 17.
Dr Ali Juma Hamisi, a brother to Likoni MP Mishi Mboko, was among the 50 Kenyan doctors sent to Cuba to study family medicine.
"We extend our deepest condolences to the family of the deceased and provide assurance that plans are already in place to transport the body back to Kenya within the shortest time possible.
"Our Kenyan embassy in Havana is working closely with the Cuban authorities in handling this case," MoH communicated.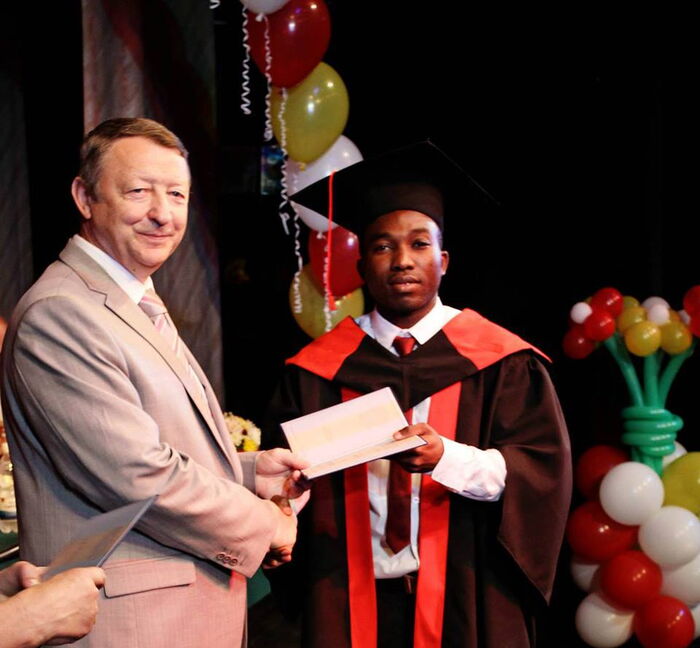 According to the Health Ministry, the circumstances resulting in Dr Hamisi's death are not clear with investigations led by Cuban authorities underway.
"As we wait the full police report on the case, we urge and and request fellow Kenyans especially his fellow student colleagues in Cuba to be sensitive to the grieving family and refrain from discussing the case on social or regular media," the government cautioned.
Social media reports had alleged that Dr Hamisi committed suicide owing to the frustrations and difficult living conditions experienced by the team in Cuba.
The Health Ministry further promised to oblige by the family's request that once the investigation report is ready, it would be released to the family first.
Kenyan doctors who were sent to study in Cuba have in the past complained that the government has neglected them.
The 50 doctors claimed that some of their colleagues can barely afford 10am and 4pm cup of tea which cost Kshs 600.
The high cost of calling back home to check on their families has also dented their pockets as it costs Kshs 102 per minute.
This a Kenyan doctor in Cuba would have spent close to Ksh 30,000 in a month for a ten-minute phone call daily.