Why Ruto will be President come 2022 and Dynasties brought down
Why Ruto will be President come 2022 and Dynasties brought down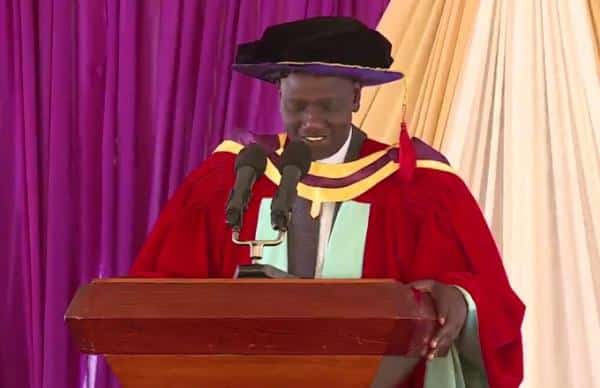 It looks like the Kenyan hustler Nation is behind Deputy President William Samoei Ruto and will stand with him all the way to the ballot box. According to a message circulating on social media,the Wanjiku represented by the very common man have a different view of the deputy president from some leaders  and  somehow, they feel him and identify with everything he stands for. Read the message below and be the judge.
---
To the supporters of The Hustler – WSR,do not relent,never give in to the intimidation and the negative smear campaign,here is why: 
This past weekend I used 3 Ubers,one from town to Hurlingham driven by a gentleman from Banana in Kiambu County. After the regular greetings,I quickly changed the topic to national politics,and on asking him what he thinks about what is at play currently,he told me this, "Najua wewe unatoka western kenya,na munapenda Baba,sisi watu ya Mt.Kenya,tumeamua tutakufa na Ruto,kwa sababu amesaidia Uhuru mara tatu 2002,2013 na 2017 na ni vibaya kuruka mtu akiwa amejitolea hivo.kuna watu huko juu wanataka kumuruka lakini sisi watu wa chini tuko na yeye"
The 2nd one was a Mukorino,his home is in Kinangop in Nyandarua County,this one was unique,he switched to the bible telling me, "hawa watu wanapiga Ruto Vita,wote wanafanya hivo na amewasaidia,kama si Ruto,RAILA hangekuwa PM,kama si Ruto Uhuru angeshinda kiti mara mbili,na inafaa Uangalie Ruto kama Daudi kwa bible,Saul hakutaka amuridhi ufalume,na hata ndugu zake walisikia wivu ndugu yao mdogo amepata upako kutoka kwa Mungu,na ujue Daudi hakuwa mtu mzuri sana alilala na bibi za watu,aliuwa na lakini Mungu alimpenda hivo alivyo. Na usicheze na mtu anaomba Mungu hadharani. Sisi wakorino Ruto amefanya tuheshimike,alisaidia kijana fulani kutoka Embu akuwe MP na kilemba yake,na akachagua Mukorino kuwa CEO ya NEMA(I haven't confirmed this yet) . Na unajua amenunulia sisi Shamba ya Kujenga headquarters" the story went on and on.
The 3rd discussion I had was with a Somali gentleman I met at a Spareparts shop along Baricho Road, who after bringing the discussion he was like "Ruto habagui watu yeye anaenda kila,mahali,unaona amepea Duale nguvu". While here,the guy who looks for the parts in the store overheard our discussion,when he came back he was like "huyu jamaa anapenda mahustler,anajali watu wa chini sana, na ujue Mungu awachangi wale wanamlilia" ,I didn't ask him where he comes fro since the accent was very distinct – he was from Ukambani.
The last Uber driver I used was being driven by a much younger guy,the drive was long,about 35 minutes,the gentleman was from Western,I told him I am from Kisii County, "he insisted on first knowing who I support,I told him I am yet to decide,probably he wanted to know so that he can talk positively about the side I supported. This guy made me realize that the common Mwananchi notices some very "small" things that really mean alot to them,he told me,"Mimi napenda Hustler sana kwa sababu,kabla nianze kuendesha Uber,nilikuwa napeleka boda boda,na Hustler anapigania watu wa Bodaboda anataka wainuke kimaisha,ya pili hustler ameonyesha unaweza toka huko chini hata kama wewe ni maskini and you make it. Hustler amesomea University za Kenya,na hata watoto wake wote,he believes in our system of education,imagine na hii kutangatanga yake yote alifanya PhD,akaanguka 2017 akarudia 2018 akapita. Hawa madynasty wanamuita corrupt,na sisi wanainchi tunajua nani mwizi,hata wakimpaka matope sisi wanainchi tuko na yeye. Imagine hustler aliita watu wa dini fulani ya huko western innaitwa dini ya Msambwa,watu wa chini sana,akawaitwa kwake Karen,na wanasiasa wa kwetu hawatambui hiyo dini. Jamaa anajua kujitafutia na kila mtu anaona. Hata huyo Ruto alichukuwa mtoto mwingine yatima huko Ukambani amemchukua anaishi na yeye kwake" ……he went on and on and on especially about kukula kwa Kibanda,kununua mahindi choma,hachoki etc.
Anyhow,this demonstrated that the manipulation being orchestrated by the political elite against WSR is very clear to the ordinary mwananchi. WSR has gone down to the people,he has broken the traditional barriers and attracts supporters from across the board.
I know cynics,haters and critics who have given up on their dreams will come here to dismiss this,or discredit it,it doesn't matter,let us keep going,let each one of us focus on their priorities,in the next 2 or more years,the truth shall come out.
#HustlersMovement