Photos of Moses Kuria Campaigning for ODM candidate in Kibra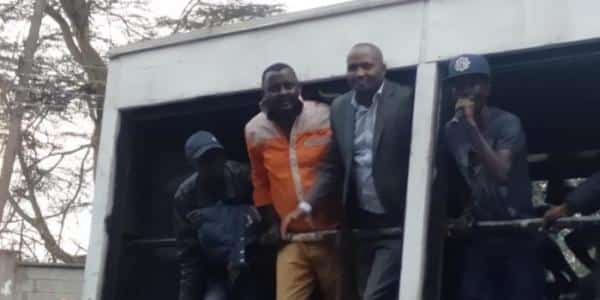 Photos of Moses Kuria Campaigning for ODM candidate in Kibra: Gatundu South MP, Moses Kuria, on Friday, September 6, 2019, took Kibra by storm as he went out of his way to campaign for his favourite ODM candidate ahead of the nominations.
Kuria was accompanied by Benson Musungu who is seeking the ODM ticket to replace the late Ken Okoth as Kibra MP.
His visit took the residents by surprise as very few people expected him to visit the area during nominations of a rival party.
Large crowds milled around the Jubilee MP as his caravan made its way around the informal settlement.
In a live facebook feed, Kuria shared his journey in Kibra with Social Media.
"Wonderful day spent campaigning for my friend Benson Musungu and the agenda of how we will take forward the transformative agenda of my late friend Ken Okoth for a better Kibra and a united prosperous Kenya,"  Kuria wrote on Facebook.
Also on the social media site, President Uhuru Kenyatta's MP urged the residents of Kenya's largest slum to vote for one of heir own and shun those he termed as political tourists.
He went with the slogan " tourist belong to Maasi mara, Not Kibra. Say no to political tourism" asking them to vote for Benson Mususngu in the ODM nominations held on September 7 2019.
" We have done our bit. We submit to the will of the voters in Kibra tomorrow. Either way, Team Musungu will accept and respect the wishes and choice of the great people of Kibra tomorrow (September 7 2019)," Kuria added.
Kuria concluded his speech by stating that he would go against his party wishes of fielding a candidate and campaign for Mususngu as he was a Kibra native.
He insinuated that the Jubilee candidate Macdonald Mariga was not from Kibra and hence his decision to support a candidate from a rival party.
Source-kenyans.co.ke