Revealed: The face of wanted Kenyan female criminal-Jane Wawira Mugo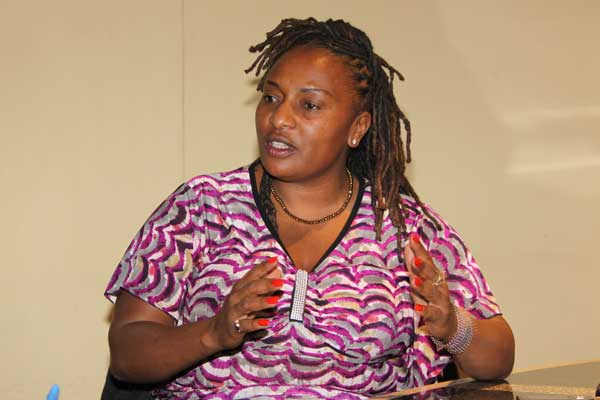 Revealed: The face of wanted Kenyan female criminal-Jane Wawira Mugo: Described by the Directorate of Criminal Investigations(DCI) as a serial criminal, Jane Wawira Mugo is not a stranger to being on the wrong side of the law.
The suspect, who claims to be a Private Investigator and Chief Executive Officer for Trimo Security, has an arrest warrant issued against her by the Milimani Law Courts over a number of offences.
Wawira, in August 2019, is said to have drawn a pistol and threatened to kill a man at New Muthaiga Estate on spying allegations.
"On 15th August 2019, Ms. Jane Wawira Mugo while at New Muthaiga Este drew a Pistol & threatened to KILL a man on allegations that he was spying for a relative of the Director in a Company where she was the Private Investigator vide CR141/325/2019. To report at nearest P/ Station."
"A warrant of arrest to that effect was issued by Milimani L/Courts. To be arrested WHEREVER she's found," said the DCI.
Further, the suspect was in 2015 charged with accusations of detaining a man in her office demanding that he pays a Sh 440,000 he owed her.
The accused went ahead to impersonate an employee of the public service where she stormed the victim's lawyer's office and after introducing herself as a police officer searched and caused disturbance in the office.
According to the DCI, Wawira is accused of abducting a businessman in Nairobi, locking him up in her office and forced him to pay her debt of Sh 400,000.
This led to her being charged with abduction, personation and Creating disturbance.
In December 2016, Isaac Ndirangu, Noreen Malala and Michael Gita, her employees, armed with a pistol, handcuffs and a radio phone robbed off a man Ksh 90,000 claiming to be police officers.
The DCI is on her trail and any information that would help arrest her would be highly appreciated.
Source-standardmedia.co.ke
Revealed: The face of wanted Kenyan female criminal-Jane Wawira Mugo