Ruto's Allies Want Uhuru To Fire Shebesh For Involvement in Politics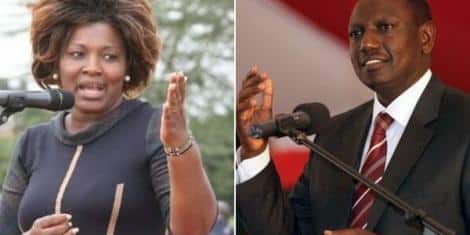 Ruto's Allies Want Uhuru To Fire Shebesh For Involvement in Politics: Rachael Shebesh's job as Youth and Gender Chief Administrative Secretary is on the line after Deputy President William Ruto's allies outlined measures they will take to ensure she is kicked out of office.
On Friday, September 28, Kandara Member of Parliament informed Kenyans.co.ke that Inua Mama group has hatched a plot that would be executed in the coming days.
They accused Shebesh of misusing her public service job to campaign and also meet youth at a controversial event with former Mungiki sect leader Maina Njenga.
"The first step is to call upon her to resign which we have already done.
"The next is to call upon the appointing authority to sack her for her involvement in politics while serving as a CAS, against public service code of conduct," Wahome explained.
"Other steps of action against her shall be a decision of Inua Mama as a team, as she has violated Chapter Six of the Constitution of Kenya, on leadership and integrity," Wahome expounded their criteria.
The Kandara MP had earlier on stated that President Kenyatta was mandated to fire Shebesh after she had contravened the law.
Shebesh's woes sprouted after she alleged that DP Ruto had forced the president to endorse McDonald Mariga as a Jubilee candidate in Kibra by-election.
However, Nairobi Woman Representative, Esther Passaris, jumped to Shebesh's defence and accused Wahome of tarnishing Shebesh's name.
"I don't think Shebesh has a problem at all as she has been working in regards to the stipulated laws. She works under the president and her position in the Gender Ministry is one of the posts that preach peace and cohesion. Shebesh has not wronged anyone at all.
"Our outfit Team Embrace is all about speaking against disunity and urging people to unite. The Inua Mama picked a war with us when we said that they were using government machinery to campaign. They are the ones campaigning and are using the divisions within Jubilee to point fingers at everyone," Passaris lashed out while speaking with Kenyans.co.ke newsroom.
By JOHN MBATI
Source-kenyans.co.ke