Occult underworld: 86 pastors, politicians caught up in ritual killings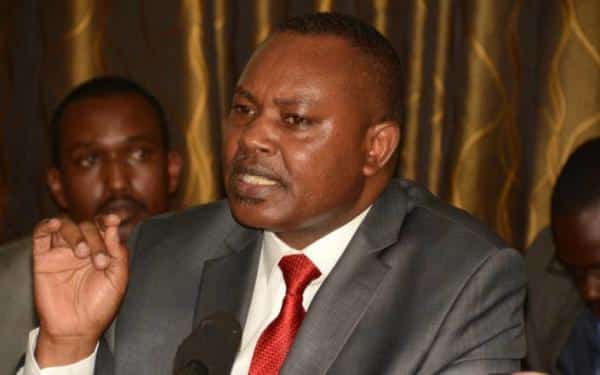 Occult underworld: 86 pastors, politicians caught up in ritual killings. Religious leaders are among 86 people being questioned by police on suspicion of involvement in the occult underworld.
This emerged as Directorate of Criminal Investigations boss George Kinoti (pictured) warned about rising cases of cultism, particularly in Nairobi, Embu, Kitui, and Kericho, citing evidence uncovered following investigations into a string of killings.
University students are among the groups increasingly falling prey to the allure of the glamorous lifestyle portrayed by the shadowy organisations.
Police have in the past warned against a group called the Young Blud Saints, which targets university students in Nairobi. In the latest investigation, clerics are among those being questioned by the police after their names were found in a book seized from a suspect who confessed to killing a Catholic priest as a sacrifice in an occult ritual.
The suspect claimed to have killed Father Michael Kyengo with the motive of enriching himself. He also claimed that he is a member of the Illuminati Official Clun, which he said is based in Sandton City, Johannesburg, South Africa.
Detectives said the people whose names were found in the booklet include politicians, business owners, and civil servants. They are presumed to either be members of the group or potential recruits.
Seized booklet
But the 22 who have so far been questioned at Kitui Police Station have denied knowledge of the cult. They include 14 businessmen, four deacons, county employees, teachers, and farmers."They have denied, but we believe they know more. We are still on the case," said a senior officer aware of the probe.
The Standard cannot name the suspects because they are yet to be charged.The police said some of the people listed in the confiscated book could not be reached, but detectives are looking for them.The book was seized from Kavinya Mwangangi who was arrested last week at Gategi in Embu. He confessed to being a member of Illuminati Official Clun so he could be wealthy.
Police said Mr Mwangangi provided details of the cult's website and offered log-in credentials into a site that helped detectives retrieve an application filled in by Michael Muthini Mutunga.Mwangangi led detectives to Mr Mutunga, who has been in police custody since his arrest in Makindu driving the priest's car.
The car had been repainted.When he was arraigned in court last Friday, Mwangangi attempted to recant his confession, but the magistrate said that could only be done before a chief inspector of police.The police were allowed to detain Mwangangi for eight days as they continue with investigations.Meanwhile, officers have warned that a string of recent murders have been linked to cultism.
The priest's killing was among about 10 cult-related killings that have been reported in the past six months.Authorities say investigations have shown that the deaths were motivated members' believing they were carrying out the wishes of occult powers or spirits.
Based on reported cases, police have concluded that parts of Nairobi, Embu, Kitui, and Kericho could be breeding grounds for cultism. "We have had so many deaths out of cultism. They include those where children or kin are dying because they don't believe in conventional medicine," Mr Kinoti said.
He said some killings remain unsolved and called for a multi-agency approach to address the issue because of its complexity and the beliefs involved.
National strategy
"Remember we are dealing with someone's beliefs, which in most cases are wrong. That is why we need a multi-agency approach from the churches, families, friends, authorities and all others who may help," he said.Other officials also want the Interior ministry to come up with a well-crafted national strategy to address cultism so that it is not interpreted by some as an infringement of the target's rights.Police investigations have revealed instances of deep-rooted cultism, where individuals exhibit unusual characteristics or kill for promotion and body parts.
Kinoti said in Kericho, police had documented incidents where members of a cult were forced to present some human body parts so they could be allowed to join a perceived powerful cult that promises money and fame."Until we proscribe these groups, which remain secrets to us, we have to be proactive for now.
Unfortunately, we are now dealing with killings that have happened," he said."Is it poverty or other factors pushing these individuals to the cults? We should know," he said.Kinoti cited the death of Ferdinand Ongeri, who was the Kenya National Union of Nurses Kisumu branch deputy secretary-general, in July this year, saying their probe had led them to cultism.Ongeri's body was found in a forest in Nandi long after he had been reported missing. An autopsy on his body indicated he died from excessive bleeding. According to investigations, Ongeri traveled to Kitui where he met a Kenyan and two foreigners.His body was found in the forest with his throat slit, neck broken and mouth cut.
By Cyrus Ombati
Source-standardmedia.co.ke