Airlifting Program Building Strong Movement of Young Kenyans In America
Airlifting Program Building Strong Movement of Young Kenyans In America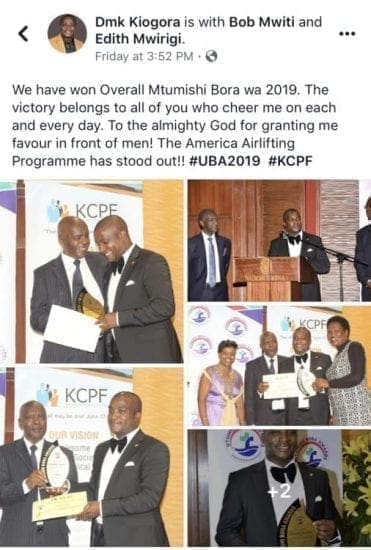 A Kenyan-Owed US based Company Is Slowly Building A Movement Of Brilliant Young
Kenyans In America Through Its' Airlifting Program.
They say, where there is a will there is a way, and this saying is slowly manifesting itself in one
of the most ambitious projects for Kenya's Diaspora since the Tom Mboya days.
Appstec America, A US-based, Kenyan-owned company, whose founder Bob Mwiti was
recognized by African Warrior Magazine in 2018, as one of the 40 most inspiring men in the
diaspora in 2018, has embarked on an ambitious project of airlifting brilliant young Kenyans to
study IT-related master's degrees in some of the top universities in America through its study in
USA flagship program, The Kenya Airlift Program.
In partnership with ABEDS, a Sacco formed by MCA DMK Kiogora of Abogeta West,
specifically for the purpose of financing the program, Appstec & ABEDS have so far
successfully succeeded in securing visas for 3 beneficiaries to top American Universities (one in
August this year and 2 others joining school in January 2020). The latter 2 just received their
visas, which was proudly shared by Bob & DMK on social media. More other beneficiaries of the
program are currently preparing for their entrance exam known as Graduate Management
Admissions Test (GMAT).
Hon DMK was recently recognized for his work in the airlifting program by being awarded the
Utumishi Bora Award of 2019.This young energetic leader from Meru County, who is a
former University of Nairobi student leader, is transforming his ward and has been hailed as
one of the best performing MCAs in the Country.
Bob, who is a former international student faced the many challenges that a lot of African
students face in America once they graduate. Challenges to do with good Jobs and long-term
work visa and permanent residency. After he graduated from college in the US, he was not able
to secure a job with his MBA and as a result he decided to pursue a career in IT where he
trained as a consultant as was immediately able to get a Job as a Systems Analyst working for
fortune 500 companies. A job which came with employment-based greencard.
The Kenya Airlift program is trying to solve the challenges that African students like Bob face all
the time. Challenge to do with finances for tuition and living expenses which a lot of African
students face and drop out of student immigration status, challenge of getting well-paying Jobs
and the challenge of getting post-graduation legal working papers and permanent residency
through employment.
Through the Airlifting program, beneficiaries are able to get unsecured international student
loans from a US based lender to the tune of up to USD 50,000, they are also able to get
graduate assistantship scholarships worth thousands of dollars and are also able get relocation
expenses loans from ABEDS Sacco of up to USD 6,000.
The beneficiaries also get FREE training from Appstec America on the IT skills that are highly
needed in the US tech industry. This training is offered on the side, as the beneficiaries pursue
their master's program so that by the time they graduate, they have the Job skills needed. The
training is offered in the areas of Oracle and Robotics Process Automation, which are some
the hottest technologies in the tech Industry today.
Appstec America also intends to help the beneficiaries with Job placement in IT projects in
America once they graduate from college. Jobs which will help them repay the loans and also
get work immigration papers and permanent residency through employment.
The program is open to all Kenyans. To learn more about the program, you can download the
program handbook from the study in USA page of www.appstecamerica.com.
If you have any questions, you can send an email to [email protected] or call +1
813-573-5619 ext 402.