Heroic Kenyan Man Foil Armed Robbery With Bare Hands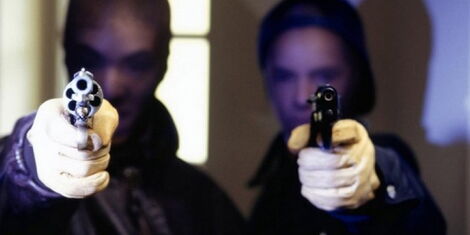 VIDEO: Heroic Kenyan Man Foil Armed Robbery With Bare Hands. A heroic customer was on November 5, filmed as he foiled an armed robbery at a shop in Kasarani area of Nairobi with nothing but his bare hands.
According to the CCTV footage shared online, the customer had just walked into the shop at around 10 p.m. when together with the shop attendant was accosted by two armed thugs and ordered to lie down.
One of the thugs went on to ransack the till as the other stood by the door as a lookout while brandishing a pistol.
When the armed thug watching the door joined his colleague in ransacking the cash box, the customer pounced at the opportunity to jump on the thug punching him on the back of his head.
The customer who seemed to have been withdrawing money from the shop then had a short scuffle with the thug and managed to slip out just as the other robber tried to join the fight.
To the relief of the shop owner, the thugs who had been rattled by the incident ran out the door after the heroic customer leaving him shaken.
In a few seconds, passers-by had flooded the shop entrance trying to figure out what had happened.
Though it was not clear what happened to the heroic customer after he exited the shop, reports indicated that the thugs shot him and he was admitted at the Kenyatta National Hospital with seven gunshot wounds.
Kenyans online called on the National Police Service and the Directorate of Criminal Investigation to ensure the duo whose faces were clearly seen in the footage was nabbed and brought to book.
Here is the video:
By EMMANUEL GITHUKU
Source-kenyans.co.ke/
Heroic Kenyan Man Foil Armed Robbery With Bare Hands