Witness confirms Jowie was with Monica Kimani before her death
Witness confirms Jowie was with Monica Kimani before her death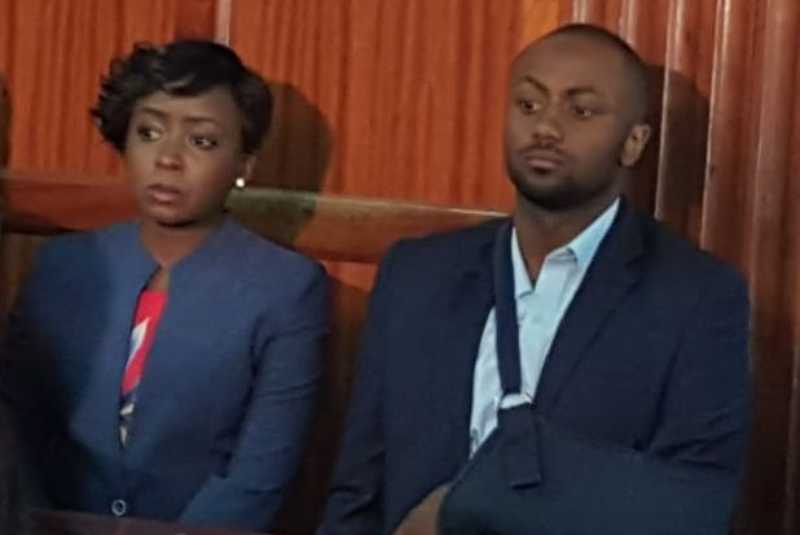 A witness has identified Joseph Irungu alias Jowie as the last person seen with businesswoman Monica Kimani before she was found dead in her house in Nairobi.
Lee Omondi, a friend of the late Monica, described their final moments at her house at Lamuria Gardens Apartments before he left her in the company of Jowie."Joe is the one I left at Monica's place the night she was killed.
He described himself as a security person working with Interpol and at the Office of the President. He even offered to get me a firearm," said Omondi.Omondi, a businessman dealing with motor vehicle insurance, was testifying in the trial of Mr Irungu and his girlfriend, former TV presenter Jacqueline Maribe, over the murder of Monica on the night of September 19 and September 20 2018.
He said he met Monica in 2015 in Juba, South Sudan, where they both worked, during a party organised by his brother for Kenyans living in Juba.Omondi said he came back to Kenya in 2016. It was not until August 2018 that he met Monica again in Nyeri.
She was in the company of Jimmy, a friend of both. Later, Omondi asked Jimmy to help him change the registration of his car which had South Sudanese registration."Jimmy referred me to Monica who promised to help me through her connections in Juba. She told me she would be going back to Juba the following month," he said.
While in Juba, he said, Monica asked for details of his vehicle and logbook, as well as Sh12,000 for processing.On September 19 2018, he said, they communicated after Monica arrived back in Kenya. She informed him she had brought the new logbook with the new registration numbers."I called her at around 8.30 pm and informed her it was late, and asked if I could pick the documents the following day.
She insisted I should go to her house that night because she would be travelling to Dubai the next day," said Omondi.He said he found her in the company of two men, Jowie and another man called Walid.Omondi said Monica introduced Irungu as her "good friend" and a security officer working with Interpol and at the Office of the President, and the other man as Walid, a neighbour and friend.
He described Walid as "an old man with white hair". He said Jowie was wearing a white Kanzu, greyish coat and red cap.Omondi said he overheard Monica say Jowie never dressed like a Muslim."Jowie said they had an operation in Lamu and had brought an undocumented person from Lamu to Nairobi. He even said he had taken a house in Eastleigh for the operation," he said.Omondi said they discussed insecurity which scared him. He said he wished he owned a gun to which Jowie replied that he could help him get one.
Omondi said Monica talked about her trip to Dubai which seemed to interest Jowie. By this time, he said, Walid had left. After about one and a half hours, he said, he also left."I thought I had overstayed and I reasoned it was good to leave. Jowie looked like someone who knew his way around the house.
He knew the rooms and where everything was," he saidHe said Monica gave him an envelope containing the details of his vehicle and that someone was to deliver some parcel to him the following day.That was the last time he saw Monica. When he called her the next day, her phone went unanswered. He later learnt Monica had been murdered.
By Paul Ogemba
Source-standardmedia.co.ke