Samburu Man Lelaki Turns Down DP Ruto's Money Offer
Samburu Man Lelaki Turns Down DP Ruto's Money Offer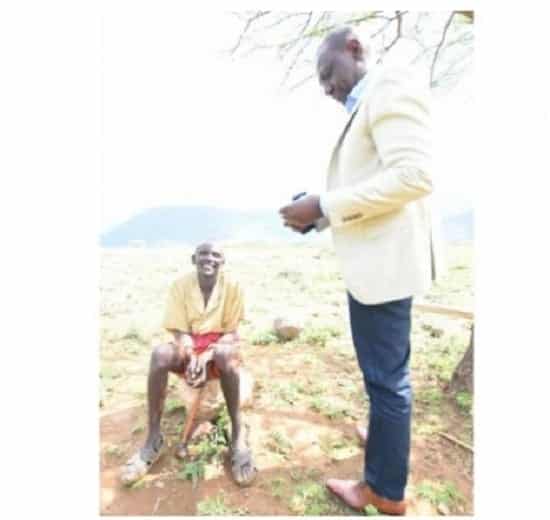 A man in Samburu surprised a lot of Kenyans after turning down Deputy President William Ruto's money on Friday 6 December and instead asked the DP to send a message to 'himself'.
In a post by State House Digital Strategist Dennis Itumbi, Lelaki Leriano had no idea who DP Ruto was at the time of his impromptu visit to Samburu.
According to Itumbi's post on Facebook, Leriano produced his Identification Card when DP Ruto asked for his name.
"Young Man: Naweza kuwatuma Nairobi?
DP: Haina shida, kama ni kitu tunaweza fanya, tutafanya. Lakini si Kwanza utuambie Jina yako.
Young Man: Naitwa Lelaki. (Reaches for ID and gives it to DP)" read part of the conversation.
The 34-year-old man told DP Ruto to deliver a message to himself saying that the people of Samburu are praying for him.
"Endeni muambie huyo mkubwa mmeleta statute mtu anaitwa Ruto. Muambie yeye tunamwombea sana," said Lelaki.
When the Deputy President asked him who Ruto was, Lelaki said that he was just an ordinary man who wanted to become president.
After a short conversation between the two, Itumbi says the DP reached out to his pocket to give Lelaki some money but he turned it down and instead asked him to deliver the message.
"Apana mimi sitaki pesa. Nyinyi muambie tu mkubwa aambie Ruto tunamuombea sana. Hiyo tu. Mimi ndio nafaa kuwalipa kwasababu ya kuwatuma," said Lelaki.
The Deputy President was heading Marsabit County for the Lake Turkana Cultural Festival 12th Edition in Loiyangalani when he made the short stop at Samburu.
By Fay Ngina
Source- standardmedia.co.ke
Samburu Man Lelaki Turns Down DP Ruto's Money Offer