Kenya's Star Newspaper Mocks the Cross of Christ: Should Apologize

Kenya's Star Newspaper Mocks the Cross of Christ: Should Apologize.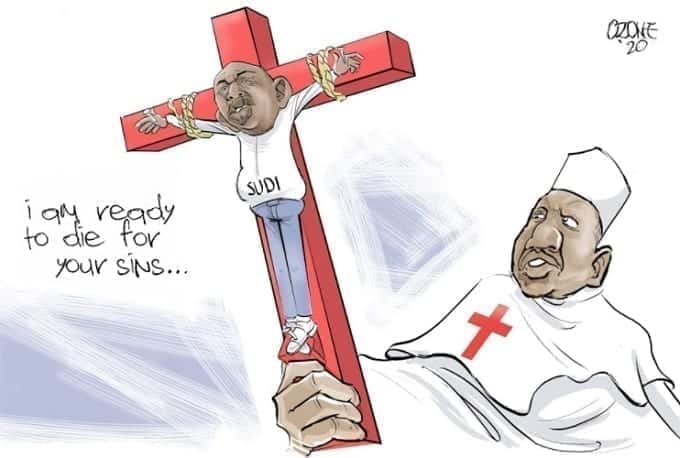 On the weekend, the Star newspaper cartoonist depicted MP Oscar Sudi hanging from the Cross. They did this hiding under the freedom of the press, and freedom of expression, which are engraved in Kenya's Constitution. The Cross of Christ is one of the most sacred symbols on earth. It is the mark you see on most graves and even used by international humanitarian organizations, including the RED CROSS. It signifies the death and resurrection of Jesus Christ. In this, the Cross is not only the foundation of Christianity, but also brings comfort in times of suffering, and is the marker that gives meaning to eternal life.
The Cross-represents billions of people who find shelter in the life, death, and resurrection of Jesus Christ. It is not a political symbol but a spiritual symbol. Throughout history, the Cross has expressed the best of humanity because of Jesus sacrifice for sins as the only sinless one who was able to do so. From loving one's neighbor as oneself, to serving those who are vulnerable, the Cross encourages morality, mercy, and grace out of gratitude for what Jesus did. It calls people of the world to peace.
It is therefore a mockery to millions of Kenyans for a newspaper cartoonist to insult this pinnacle of forgiveness, justice, and eternal life. In mocking the cross, the Star newspaper is acting like Nebuchadnezzar (in the Book of Daniel), deserving the wrath of God, but also insulting all those who believe in Jesus Christ's life, death, and resurrection. It insults all those whose graves are marked by the Cross assuring humanity that this life will be followed by an eternal dwelling with God the Creator of heaven and earth: God the giver and sustainer of all life, God the just judge who, through grace and mercy will bring all things to an end but save those who trust in Him and believe in the efficacious sacrifice of Jesus death on the Cross, overcoming death through His resurrection.
Pastors and priests who minister and preach of the life-giving act of Jesus's death on the Cross and resurrection must condemn this mockery. Remaining silent is condoning an abuse of the freedoms which we derive from the God who these hubristic editors of Star Newspaper in Kenya ignorantly mock!
Teddy Njoroge Kamau (PhD)
HTBluff Associates
Diaspora Messenger Senior Columnist
https://www.the-star.co.ke/cartoon/2020-09-14-september-14-2020/
Kenya's Star Newspaper Mocks the Cross of Christ: Should Apologize