The Video of Raila Watching Ruto Sing Kikuyu Gospel Song
The Video of Raila Watching Ruto Sing Kikuyu Gospel Song
Over the past week, a video has been making rounds on Facebook and WhatsApp groups depicting ODM leader Raila Odinga watching Deputy President William Ruto performing a gospel song.
Kenyans.co.ke has established that the video was digitally doctored and later distributed under the guise that it was a genuine clip.
Our in-house video expert Kevin Mwirigi explained to this writer that the entire set appeared manipulated, albeit poorly.
"The TV is badly positioned and is not in line with the room's perspective. The crooked edges on the left side of the TV stand show that it was edited to fit the scene," he observed.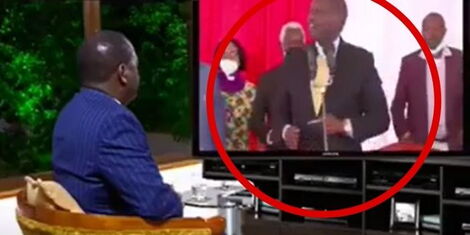 He further pointed out other points of weakness in the video stating that the reflections of the original video subjects were visible on the window.
"There are jump cuts on the video indicating that it was edited. Raila's movements are looped and there is no illumination from the TV. The video is clearly fake," he observed.
Additional searches indicated that the video of Raila had been obtained from a 2018 interview where he sat with then-Citizen TV presenter Hussein Mohammed.
The imposed video of the Deputy President was lifted from an event where he had hosted leaders from Meru County for prayers at his Karen residence in Nairobi.
Watch the video below:
As digital platforms become widespread, the issue of fake videos has also grown exponentially.
With the advancement in technology, video editing software have become easy to access with users able to make videos on programs like Photoshop.
On photoshop, for example, one can apply adjustment layers and filters to video, can stack layers, including graphics, text, photos and video. It also supports animation and motion graphics and even 3D animation.
With the manipulation of videos, a recent trend in 'deep fakes' has come to play especially in American politics.
The deepfakes have ruined the reputation of people who did not say or do certain things. 'Deep fakes' generate videos by manipulating words or actions of individuals.
Since the 2016 US elections, 'deep fakes' have become popular as people create them to change perceptions or commit fraud.
The spread of the high-tech manipulated videos which are spreading online could threaten presidential candidates ahead of the US 2020 elections.