Shipping To Kenya From USA: Homeland 254 Logistics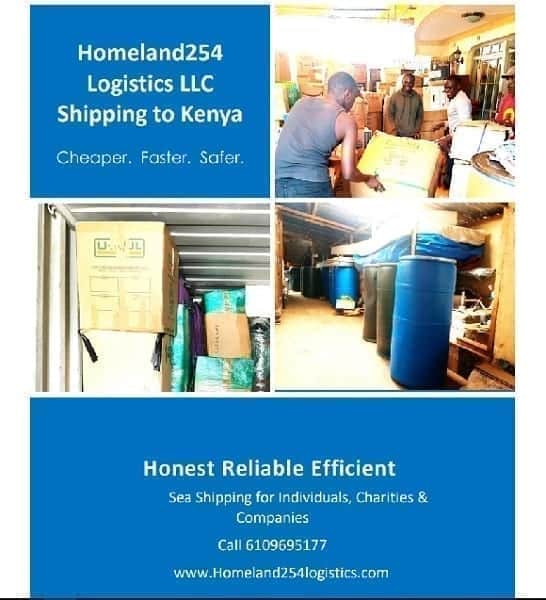 Homeland 254 Logistics is a Shipping Company that  Specialize in: Heavy equipment transportation and Shipping. Assist in Purchase through our source agents.
SERVICES: We pickup at your home or business for a minimal fee.
CUSTOMS: We handle all customs and duties. Pay for your Consignment in the US and We handle the rest.
CHARITY: At Homeland254 Logistics, We aim to Enrich the lives of disadvantaged children in Kenya. 10% Discount on Charity Shipments
 *Last shipment 2020* ​Nov 14th – PA NJ NY, ​November 28th – DE, MD,​ December 5th – MA, Greater New England. ​Download Our New App by following the link below ​: https://kenya.appv.biz CALL US-Tel: 610-969-5177. EMAIL US [email protected]
ADDRESS 113 S 10th St. Coplay, PA 18037. Website https://www.homeland254logistics.com/
Shipping to Kenya for individuals, Corporations and Charitable organizations.
We are based in the State of Pennsylvania registered as an LLC
We serve the entire North East From VA to ME Some Parts of the Midwest and Southern United States
Our service involves door-to-door pickups of packages, furniture, Machinery, Electronics and other qualifying Merchandise. We consolidate the goods and carefully pack them into a shipping container (s)
The goods are then transported via sea to Kenya and this takes about 3 months
Upon arrival, we are there to clear the goods and then distribute them to their respective owners.
Shipping To Kenya From USA: Homeland 254 Logistics.