Brilliant Boy Lands a Scholarship from The Kenya Airlift Program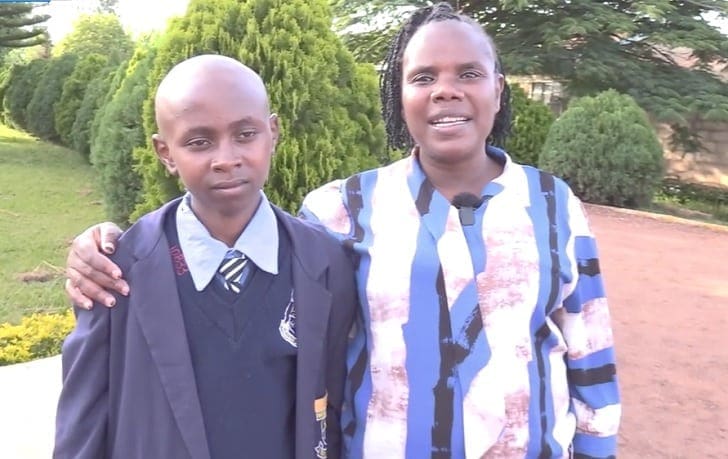 The founder of the KENYA Airlift Program, Bob Mwiti, has touched yet another life of a young brilliant boy after Alistair Murimi who just scored A- through a scholarship by the award-winning program in the recently announced KCSE 2022 results. Jeff Murimi who comes from a very humble background has been at the verge of giving up in good education due to lack of fees and money for basic necessities to keep him comfortable at school.
Jeff blissfully reported back to school worry free of ever again being sent home for school fees. Announcing the move on his social medias, Bob congratulated the brilliant boy expressing great hope in his potential to do exemplarily well in his studies.
"Congratulations to Jeff Muchiri of Kiamutugu Village, Gichugu Constituency, Kirinyaga County for scooping a merit-based scholarship award from The KENYA Airlift Program to study at Nkubu High School. The scholarship will fully cover his tuition fees until he completes his KCSE as long as he maintains good grades in school. The award is part of my personal initiative to sponsor bright students at my Alma Mater."
He wrote.
Ken Muriira who is the program's Meru office manager together with fellow staff members presented Jeff with a cheque on behalf of Bob in presence of the school deputy principal.
The video above provides more insights on the same.
To learn more about this program please visit www.kenyaairliftprogram.com
A Little Bit About Me!
I am a former international student in USA and I am a senior IT consultant in the areas of Oracle EBS Financials and Robotics Process Automation (RPA) here in USA. I am the programs director of Appstec America – A consulting company based in Tampa, Florida, USA.
I've been blessed to have learned a lot in my career as an IT consultant. My life has truly changed, and I've made it my mission to give back and serve others beyond myself. Whether that be helping you to relocate to USA as an international student, train you as an IT consultant, help you start and build your own online business, creating your financial freedom, motivating you to pursue your goals and dreams, to being more productive, to inspiring you to constantly improve yourself.
My mission is to get you to wake up to the unlimited potential within you and achieve what you're truly capable of through my various self-development training programs. On the internet, I openly and passionately share my life experiences and all of the very best concepts, strategies, tools, and resources that I continue to discover that have made a measurable difference to my life and will do for you as well.
Keep your dream alive and never give up! To learn about my company's amazing programs, please go to;
www.appstecamerica.com or www.successwithbobmwiti.com
Contact me at;
[email protected]
[email protected]
+1 813-573-5619 ext 402
Brilliant Boy Lands a Scholarship from The Kenya Airlift Program