Journalis Stephen Letoo Gives Sneak Peek of His Marriage and Career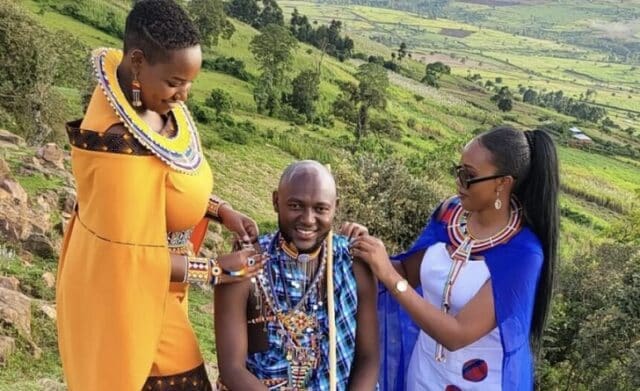 For a man who was raised in a polygamous family, it would not come as a surprise that he would walk in the same shoes. Born to a chief in Kilgoris, Transmara,  Stephen Letoo would attend Kabianga High School in Kericho and later attended the University of Nairobi to pursue journalism.
He stated that while in high school he would present news to fellow students on Mondays and Fridays.
The inspiration for journalism he disclosed came from veteran journalists like Kanze Dena and Edward Kadilo.
"Being a son of a chief came with the privilege of owning a television set and thus people used to flock to our house to watch the news,
"I thus developed an interest and wondered how somebody who appeared on television like this attracted so much attention in the village,"
He recalls his moment of "fame" when President William Ruto sought to identify where Letoo was during his press conference at Karen, Nairobi.
Where is my friend Stephen Letoo?" the president asked.
"I was in the office because we only send one reporter to the field so that when we have several stories we divide amongst each other,
I was on my phone on Whatsapp when suddenly I heard that remark, everyone in the office laughed," he revealed.
Letoo over sometime has been an advocate of polygamous marriages, his culture which is the Maasai Community are known for being polygamous,
His tribe allows men to marry as many wives as they please.
He reiterated that he was a proud and big supporter of polygamy.
"Polygamy for me is the African way of life,
How many people have you heard have killed the wife plus children with kids in the house?
This is a result of jealousy and polygamy is here to solve that," he revealed.
He has been vocal too on his social media handles with his latest statement getting netizens talking.
"We need polygamy now more than polygamy needs us…!" he opined.
Letoo started his career at Royal Media services where his talents were spotted by his university classmate who was then the director of Royal Media Services (RMS).
He narrated how he stood out because of his passion. He would later be poached by Kiss FM ( Radio Africa) and three years later Citizen (RMS) poached him back.
"My classmate who worked as a news director saw my enthusiasm for journalism,
He organized my enrollment at RMS. Four months later, I had mastered my art, he remarked.
"In 2013, I was poached by Kiss TV to cover the General Election. I gave it my best and managed to get noticed by my former employer,
Three years later, Citizen TV poached me again from Kiss TV and I have worked there to date presently as a senior political reporter," he noted.
His proud moments in the media industry includes him travelling far and wide to countries such as Switzerland and recently Israel and establishing contacts.
Despite him being a political news reporter, Letoo observed that he had no interest in being involved directly in it.
He recalled his encounter while covering the National Super Alliance (NASA) protest march in 2017.
"When Raila was returning from Germany and was driving all the way from the airport to Uhuru Park, there was a serious engagement of the police with the Nasa supporters,
It was scary because bullets were being shot everywhere, a NASA supporter was shot on the leg and came lying on the windscreen of the company car,
He was bleeding thus we kept wiping blood every now and then, this while we were covering the event in real time, he recalled.
Letoo denoted that Kenya's political culture had changed with the issue of money taking prominence.
"Politics is becoming too expensive, in 2013 the The National Alliance (TNA) side used about Ksh 8 billion while the Coalition for Reforms and Democracy (CORD) of Raila Odinga used Ksh13 billion.
"Campaigns nowadays has been left to people who have surplus money, I do not have that," he stated.
Source-https://www.kenyans.co.ke/
Journalis Stephen Letoo Gives Sneak Peek of His Marriage and Career