Ruto is Much Different From Uhuru-A State House Of Contrasts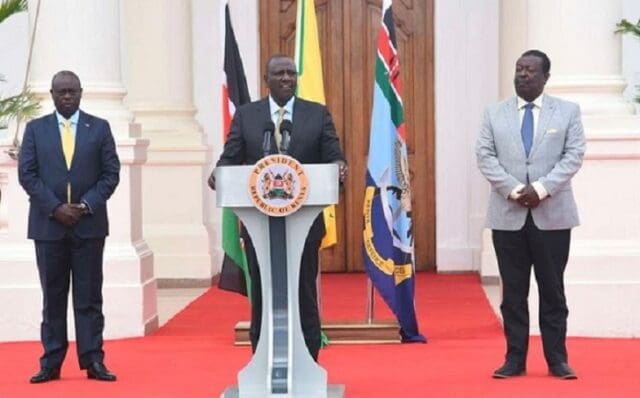 Before, an invitation to State House, Nairobi, always came with guaranteed discomfort. As a rule, your phone was confiscated by mean-looking security officers at the gates before you were led away to some tent or a waiting room. Then came the long wait.
Then President Uhuru Kenyatta, and his handlers, had invented what was informally referred to as the Standard State House Time (SST). A media briefing slated for noon could start at 3pm — or even 7pm. Journalists got used to this State House hospitality, a house of restrictions and seemingly with no functioning clocks.
So you can imagine my lack of enthusiasm on the evening of January 2, when I learnt that President William Ruto had accepted a roundtable with selected TV journalists.
President Ruto's handlers said he would be available from 7pm to 10pm. The President wanted to speak in Swahili and much later with an English audience. So, the joint round table was then set, and the journalists selected by their respective media houses reported at State House at 4pm.
Thirty minutes earlier, we all were at Gate 'B' starting the security process and, to be honest, ready to lose our freedoms.
A General Service Unit officer politely approached where we had stood, myself, Citizen TV anchors Nimrod Tabu and Sam Gituku and told us, "Please proceed for your security check."
The first confusion started here.
Instead of a battery of security men at that small gate, there were only three officers. They proceeded to frisk us one by one, then ushered us in.
"Wait", I asked the officer, "we are not leaving our phones here?"
He smiled back and responded, "it is not necessary."
This was just but the beginning of more shocks that subtly indicated the famed "change of guard" that happened at the house on the hill.
We then settled in the room from where we held a five-hour interview with the President.
At exactly 4:30pm, in a room full of cables where TV crews were just setting up cameras, sitting arrangements and with State House staff still dusting off some chairs and tables, President Ruto walks into the room, alone.
The entire hall stops, and in obvious confusion, the President then proceeds to make small talk, "I am ready for you."
Someone mutters back, "Your Excellency, we start at 7pm" and there's a nervous laugh around the room.
He seems to have lost both his handlers and his security in such a short brief moment as they also come running almost stumbling into the hall where they must have been told the President is already in the "interview venue".
He calmly tells them, "I heard you wanted me here?" as he laughs. "No, no not here and now, Your Excellency," one of his media team members explains as they start leading him out of the hall.
As he walks out, managing three to five minutes of small talk with his would-be interviewers, the Head of State offers tea "Naomba mkunywe chai wangwana, hio iko mingi sana hapa (Please have some tea, ladies and gentlemen. We have it in plenty)," he says as laughs and walks out.
I have always reflected on this 'non-encounter' as the tea was brought the next minute, but the air in the room had changed.
"Nothing happens by chance in politics," he later told us as we were having dinner. His mood the whole night was calm, reflective, and boisterous. He seemed eager to impress the nation through the interview.
His predecessor had created an aura of fear around these media roundtables; he and his handlers would have been keen to make sure journalists understand who was in charge.
President Ruto seems to divorce that past.  In the small talks, we learned that President Ruto was keen on turning State House into an office and not a residence.
The President also admits his job is tough. My colleague Michelle Ngele of K24 asks him "How does it feel being President?" He is silent for a while, the says: "Someone must do it".
The President is pained by Mr Kenyatta, his former boss and political ally. He speaks often about how the job of balancing the economy was heavy and crucial but "these people [Mr Kenyatta's administration] did not work for three years", a heavy intonation evident in his voice.
At face value, one can tell that he is settling in and reality is hitting home very first. His United Democratic Alliance party is full of young and novice politicians. Meru Governor Kawira Mwangaza's situation is a case in point.
The President had to assign his deputy, Mr Rigathi Gachagua, to mediate the political conflict there that if left unmanaged can easily blow out of control.
Mr Gachagua, himself has a brewing political battle with Nairobi Governor Johnson Sakaja. So we put this as a question to President Ruto and he says: "You know we have a very young team we will sit down as a party and mentor some of the young people we have and solve these things."
As soon as we finished the interview, minutes to midnight, the President rose from his chair asking his handlers, "Now, is there dinner?" The entire team was ushered into the next hall.
We followed him to the buffet and sat around a long table. He started with two pieces of well-done ribs, a lot of greens and steamed vegetables and ugali.
He spoke to everyone at the table, occasionally laughing at comments on social media about the just concluded interview.
He also spoke passionately about farming: "It's a calling, my friends. All farmers will go to heaven." We presumed that he cheekily included himself on the heaven-bound lot. The Head of State then empathised with media and journalism which are experiencing challenges brought about by digitisation.
"You [journalists] have a tough job, some people say just by looking at you on TV that you belong to this camp and that camp … it must be impossible," he said.
We reminded him that's how some of his handlers view us. We laughed and concluded that that's how the game must be played. No hard feelings.
At some point, I suggested to him that he must make a deliberate choice to have such regular media roundtables or give journalists exclusive interviews.
He looked at me and said, "Smart, if I do that, they (Kenyans) will say I have 'captured' you." I pushed back on that idea and asked him to find a balance. "We will see we will see," he answered back as he exited the hall and we left the hallowed corridors of the house on the hill.
By James Smart
Source-https://nation.africa/
Ruto is Much Different From Uhuru-A State House Of Contrasts