Family of Edwin Chiloba says he was a Church Leader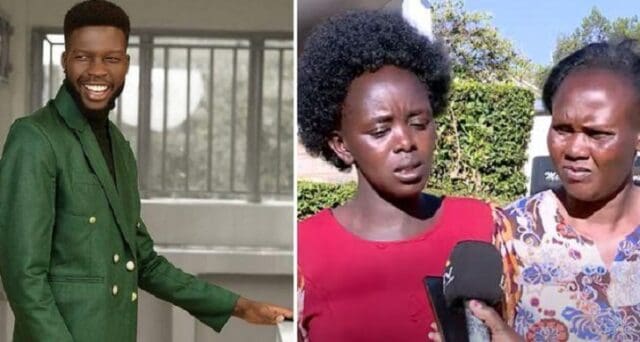 The family of slain model Edwin Kiprotich Kiptoo better known as Edwin Chiloba on Monday, January 9, defended their kin from the LGBTQ tag, affirming that he was brought up as a staunch Christian.
Speaking to Citizen TV, Gladys Chiri, Chiloba's relative, intimated that his enemies were behind the LGBTQ narrative being propagated online.
Dating back to his primary school days, she affirmed that the late Edwin was a church leader who was also involved in religious activities during his secondary education.
"I want to tell those on social media that if you are enemies of my brother and you're trying to tarnish his name, God will repay you. My brother was brought up in a Christian background.
"He was a church leader at Sergoit Primary School and also the YCS leader at St. Francis Kimuron Boys' High School. He was coined the nickname "pastor".
"He came to Nairobi for university studies. So all these things we are hearing on social media, we have never suspected. My case is his enemies are trying to spoil his name," she noted.
Gladys Chemutai, Chiloba's sister, revealed that the postmortem would be conducted on Wednesday, January 11.
She lauded the government for expediting the process and urged them to nab the culprit behind the heinous crime.
"I thank the government for standing with us and expediting the process. We want justice for Edwin who has never wronged anyone in his life. I want to tell my brother to rest in peace, we loved you but the enemy destroyed you, but God will help us," she pointed out.
The activist's body was found stashed in a metal box filled with women's clothing along the Kipenyo-Kaptinga road in Kapsaret, Uasin Gishu County.
According to preliminary reports, Chiloba's eyes were gouged out and he died out of strangulation.
Police officers have since arrested Jackton Odhiambo- the prime suspect in the murder- as well as three more people who are suspected of colluding with Odhiambo in moving the metal box to the scene of the crime.
By BRIAN KIMANI
Source-https://www.kenyans.co.ke/
Oscar Sudi Attack LGBTQ Community After Murder of Edwin Chiloba
Kapseret Member of Parliament Oscar Sudi has attacked the LGTBQ community following the death of Edwin Chiloba.
In a video seen by Nairobi Leo, the UDA MP claimed that Edwin Chiloba was killed because of bad manners.
"Kuna kijana aliuliwa jana hapa Eldoret na ni kwa sababu ya maneno ya kukua gay. Ukifuatilia vizuri unaskia aliuliwa kwa sababu alikua na boyfriend wawili nay eye ni mwanaume, sasa kwa ile kudouble deal wale wote wakashikana wakasema huyu jamaa ni mkora anatudanyanga, wakaua huyu Kijana," Sudi said.
The legislator added, "Sisi tunakemea kama viongozi, na najua makanisa zetu sote ziko against it. Nilikua naona social media wengine hapo wale wa gayism na lesbians, walikua wanajaribu kuleta conversation kusema ati walionea huyo jamaa kwa sababu ni gay, hawakuonea huyo jamaa kwasababu ni gay, huyo aliuliwa kwa sababu ya tabia mbaya na sisi kama wakenya na wakristu tunakemea."
Chiloba was discovered stuffed in a metallic box on Wednesday, January 4 in Kipkenyo, Eldoret Town.
Jackton Odhiambo, the prime suspect in the case has confessed to the police of committing the murder after finding out that Chiloba had another partner.
Source-https://www.nairobileo.co.ke/
Kenyan MP Oscar Sudi condemns gays after LGBTQ activist Edwin Chiloba's death
Kapseret lawmaker Oscar Sudi has condemned gay rights activism, arguing it goes against African cultural norms.
The controversial MP appealed to the members of the community and Kenyans to stick to the African norms and shun the 'bad' western culture lifestyle.
"As leaders, we are strongly condemning such lifestyle. If you want to engage in such evil thing, please do elsewhere. . .I was surprised that these gay rights activists are not condemning the murder but because the deceased was gay," noted Mr Sudi.
Sudi's comments comes days after Edwin Chiloba, a LGBT activist's remains was found dumped in Kipkenyo, a suburb within Eldoret town.
Mr Sudi asked Kenyans and members of his community to shun such lifestyle, saying it was abomination.
"Everyone should listen to me; our good Kalenjin culture abhors such evil culture. Our Kalenjin culture talks about children going to school, then getting married and having children and your children will do the same and also have children," said the MP.
The lawmaker added: "Nowadays there are a lot of evil things going on that man and man are dating and even a woman and a woman dating. . . this is evil. those doing it if their parents did it, they won't have existed."
Mr Sudi explained the church and the African culture condemned LGBT issues and called on the young people to shun it.
"There is a young man who was murdered because of issues to do with gay rights. There are claims that he was murdered because of love triangle. . .. this is evil that is happening in US and other places and must be condemned."
Source-https://nairobinews.nation.africa/
Family of Edwin Chiloba says he was a Church Leader