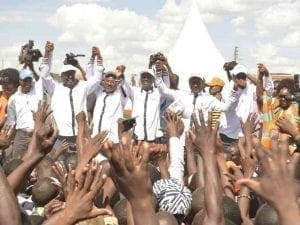 A combination of voter registration figures, past voting patterns and performance of the co-principals could be the determining factor in choosing the National Super Alliance (NASA) flag bearer. NASA's four co-principals were at Diani, South Coast, on Sunday, for what they called a planning meeting to discuss scenarios and recommendations on how to arrive at a line-up for the August 8 poll. It is also believed that the alliance had shifted gears to focus on matters of power sharing between the coalition parties, refining a strategy for a  huge voter turnout and protecting the vote in the August polls.
Contentious issues
The leaders – Raila Odinga (ODM), Kalonzo Musyoka (Wiper), Musalia Mudavadi (Amani) and Moses Wetang'ula (Ford-Kenya) have insisted  their meeting was part of regular consultations and was not a forum to discuss the contentious issue of who will face Uhuru. This comes against the backdrop of denials of media reports that claim its National Coordinating Committee unanimously agreed on a Raila Odinga-Kalonzo Musyoka ticket to face off with Jubilee's Uhuru Kenyatta and his deputy William Ruto.
It is, however, emerging that the coordinating committee's recommendations on who should fly NASA's ticket was settled based on ratings of the co-principals, according to figures presented by the technical committee showing voter registration numbers and past performance of each leader. The technical committee is believed to have prepared the data and left politicians in the coordinating committee to interpret it and vote for the principals. Raila, according to figures presented from the last voter registration, has a head-start in the race, given that his Luo-Nyanza stronghold alone, at 1,861,730 votes, is almost at par with Uhuru's Central Kenya. Kisii is estimated to have 824,438 votes. On this premise, it is believed that Raila would get a larger chunk of the Kisii votes among the principals, giving him 2.7 million votes in Nyanza, against Uhuru's 2.9 million from Central. Further analysis by the committee projects that Raila would overtake Uhuru if Busia votes were to be added to those from Luo Nyanza and Kisii. It is also projected that a majority of Western Kenya's 1.92 million votes would go to Raila, as would Coast's 1.3 million and Turkana's over 200,000. There seems also to have been agreement among the committee members that Kalonzo would get most of the 1.5 million votes in Ukambani, but would trail Raila by huge margins in other parts of the country. The Wiper leader would however fair better than the other principals in this respect, making a pairing of him and Raila NASA's best bet at winning.
While the team estimates that Raila would get at least 95 per cent of Luo votes,  85 per cent in Western and 70 per cent in other NASA strongholds, the other co-principals would get between 40 to 50 per cent. According to the technical committee's research, turn out for Raila in Nyanza and Uhuru in Central, in 2013, stood at 92 per cent, dispelling the notion of poor turnout for Raila during that poll. Kisii, Mombasa, Machakos, and Kitui were also identified as areas where high turnout was key to propel NASA to the top, if 2013 voting patterns hold. Sources said the ultimate decision on NASA's flag bearer would be made next week, when the leaders are expected to hold a three-day retreat.