Atlanta Loses another Young Kenyan Samuel Kisaka Mwawasi
Atlanta Loses another Young Kenyan Samuel Kisaka Mwawasi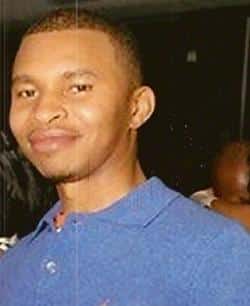 Story by KimKamau and BMJ Muriithi
Barely a month after a young Kenyan student collapsed and died at Kennesaw State University, the Kenyan community in Atlanta is grieving once again after another young man lost his life following a head-on collision accident which occured a few miles from Hartsfield International Airport, South of the City of Atlanta. Samuel Kisaka Mwawasi passed away on Saturday afternoon at Grady Memorial Hospital where he had been taken after the Friday night grisly accident. He is the son of pastor Donald Mwawasi of Believers Celebration Church in Marietta, Georgia.
Mwawasi, 28, was driving home from meeting his friends when the accident happened on Old National Highway in college park, Georgia at around 4am. He was taken to Grady Memorial hospital in a critical condition after sustaining serious internal and external injuries. Atlanta police told KEN that it took a while before the authorities could get hold of the family. Other reliable sources told these reporters that when the parents arrived at Grady Hospital, they could not immediately see him as a team of ten doctors was working endlessly to contain the profuse internal bleeding. However, at around 3 pm EST., he succumbed to his injuries and passed on.
"It is so sad that we have lost such a humble, hardworking young man who was so loved by his parents and the community at large", said Dr Robert Ndonga, a close family friend who is in the funeral committee in Atlanta. Asked whether he knew the fate of the other driver, Dr Ndonga said the information on the accident was still scanty but the East Point police would soon release the report.
There will be prayers on Wednesday November 25th at 6:30PM at Believers Celebration Center, where Pastor Mwawasi ministers, 1492 Roswell Rd. Marietta, GA. 30062.
The memorial service will be held on Saturday, November 28th at 4:00PM at Kenyan American Community Church, (KACC) 771 Elberta drive, Marietta, GA. 30066.
Funeral arrangements will be communicated later.
Your Prayers, Presence and Financial support will be greatly appreciated.
For more info:
Pastor K.K. Kiroko 678-656-8446,
Apostle Zephaniah Muturi 678-200-5989
Dr. Robert Ndonga 770-899-3313
Pastor James Maina 678-365-1156
Updates will be posted here as they become available.
Wilson K Wanguhu
KIM MEDIA GROUP
Tel: 678.558.3721
Fax: 678.530.1185
[email protected]
http://www.kimmediagroup.com/
---
Kenyan student dies in Atlanta
Story by BMJ Muriithi in Atlanta-
kimmediagroup.com
A first year Bachelor of Science in Medicine Kenyan student collapsed at Kennesaw State university in Atlanta, GA Tuesday and was pronounced dead moments later. According to family sources, Francis Kamau Gikaru, 30, had just left the university's clinic where he had gone for allergy medication and was walking to his class when he collapsed.
Medical personnel who promptly arrived at the scene pronounced him dead on arrival at Kennestone hospital, 10 mile west of the city of Atlanta. In a phone interview with this KEN, family spokesperson Elizabeth Mungai said that family members as well as the Kenyan Community in Atlanta were in shock. "I have just talked to his father in Kenya and he couldn't believe what I was telling him".
According to the wife of the deceased, Jane Wanjiru Kamau, Gikaru did not have any medical issues nor did he complain of any pains prior to the incident. Mr. Kamau and his wife settled in the United States in May of last year after winning the Diversity Visa (commonly known as the Green Card). Soon after, he enrolled for a BSc. in Medicine at Kennesaw State University, a popular college with Kenyans in metro Atlanta area.
He leaves behind a widow and a one year old son, Brian Gikaru Kamau. The Cobb County authorities had not released the autopsy report by the time of filing this story.
Family and friends are Meetings everyday 7pm at 1457 . Hampton view ct. Marietta ga 30008
Atlanta Loses another Young Kenyan Samuel Kisaka Mwawasi