Former President Daniel Moi's son Philip Moi jailed for a month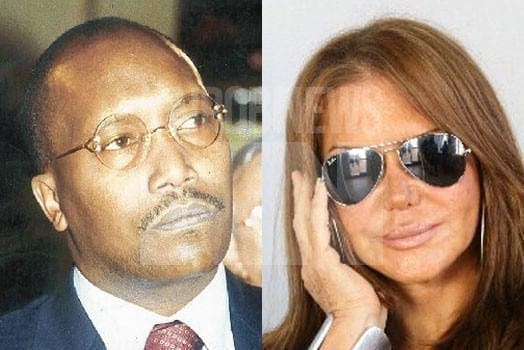 A Nairobi high court has issued an order for the arrest and detention of former President Daniel Moi's son Philip Moi for failing to pay the maintenance of his estranged wife Rossana Pluda Moi.
Mr Moi, in a divorce settlement, is to pay a monthly allowance of Sh250,000 to Ms Pluda Moi.
"I order that a a warrant of arrest and detention in civil jail at industrial area Nairobi for a period of one month do issue against the Repondent to be executed by the OCS of the Police station nearest the Respondent's place of residence," said a ruling delivered on Thursday by Judge G.B.M Kariuki.
Mr Moi's lawyer, Evans Ondieki, failed to convince the judge to allow Mr Moi two weeks to pay up. He said he was appealing the decision.
Last October, the court ordered Mr Moi to pay Ms Pluda Sh250,000 per month for her upkeep and the maintenance of their two children.
Since, the money has been accumulating, Mr Moi could be indebted by more than Sh2 million as the first order for maintenance was given in May last year.
Then, he had been ordered to pay Ms Pluda Sh60,000 per month, but that was increased to Sh250,000 per month or Sh150,00 per month if the children were in boarding.
Mr Moi did not pay but requested the court to suspend the order pending his intended appeal. High Court Judge G.B.M. Kariuki yesterday declined.
Instead, the judge granted Ms Pluda's application for arrest and detention of Mr Moi.  Mr Moi was able to pay but was unwilling to do so, the judge said.
The judge seemed to want to assert the authority of the court and preserve public confidence.
"This court has a duty to ensure that the decisions of the court are not mere rhetoric but rather are decisions that must be obeyed by those to whom they are directed," he said.
"The confidence of the public in our system of justice depends on the efficacy in the implementation and obedience of court decisions. It is for these reasons that the court takes a serious view of the respondent's failure to obey the court order."
The judge noted that it would be "morally wrong" and discriminatory against the poor to send one to civil jail for inability to pay a debt.
But Mr Moi was not such like: "The respondent in this case is not unable to pay. He is not a man of straw," the judge noted.
Since Ms Pluda was unable to identify any of Mr Moi's property to attach, and civil jail was for those who refuse to pay debts, the only option was to deprive Mr Moi his freedom, according to the judge
Source-http://www.nation.co.ke/News/Court+jails+Mois+son+for+a+month/-/1056/1328662/-/10sogo2/-/index.html
Former President Daniel Moi's son Philip Moi jailed for a month