Kenyans to pay more for passport after the Ministry of increased the cost
Kenyans to pay more for passport after the Ministry of increased the cost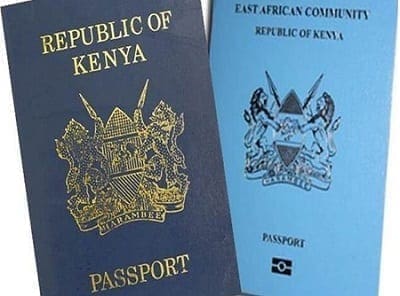 Kenyans will have to pay more to get a new passport after the Ministry of Immigration increased the cost of acquiring the document.
The cost of acquiring a new ordinary 32 page passport has been increased to Sh4,500 up from Sh3,040.
A notice issued at the immigration department also indicated diplomatic 48 page passport will cost Sh7,500 up from Sh6,000, ordinary 48 page passport Sh6,000, 64 page Sh7,500 while East African one will now cost Sh940.
The department is gearing towards becoming a parastatal, one of the reasons insiders attributed to the increase.
A 32 page service passport will cost Sh6,000, temporary permit Sh300, certificate of identity Sh3,000 while replacing a lost passport one will need to cough Sh12,000.
To replace a valid but mutilated passport one will need to pay Sh10,000 and a temporary passport will cost Sh3,000.
The circular indicated that for one to acquire emergency travel documents he or she will part with Sh1,600 while to regain citizenship will cost Sh5,000.
Registration for citizenship by marriage will now cost Sh30,000, registration for citizenship by marriage to spouses and for widows and widowers from East African states Sh5,000 each and registration for citizenship for widows and widowers Sh20,000.
Officials at the ministry said the measures are part of efforts for them to align with the new laws.
Citizenship by registration for lawful residence will cost Sh200,000, registration for citizenship for children and persons with disabilities Sh20,000, registration for citizenship by stateless persons Sh2,000, registration for citizenship by migrants Sh2,000, registration for citizenship for descendants of stateless persons and migrants Sh2,000 and renunciation will cost Sh20,000.
Transit visa will now cost Sh1,600 depending on the exchange rates while ordinary single journey one will cost Sh4,000 and multiple journey will be Sh8,000.
Those who will be visiting Kenya for prospecting and mining will pay Sh250,000 per year to get a permit, for agriculture and husbandry Sh100,000, proscribed profession Sh100,000, employment Sh200,000, specific manufacturing Sh100,000, specific trade, business or consultancy Sh100,000, approved religious and charitable activities Sh5,000 and ordinary residents Sh100,000.
Those seeking permanent residence but lost citizenship will need to pay Sh15,000, others Sh500,000 and spouses of Kenya Sh50,000.
Students' as well as dependants' pass will now cost Sh5,000.
Source:http://www.standardmedia.co.ke/?articleID=2000061231&story_title=Kenyans-to-pay-more-for-passport