Man nabbed with grenades at Kibaki function
Man nabbed with grenades at Kibaki function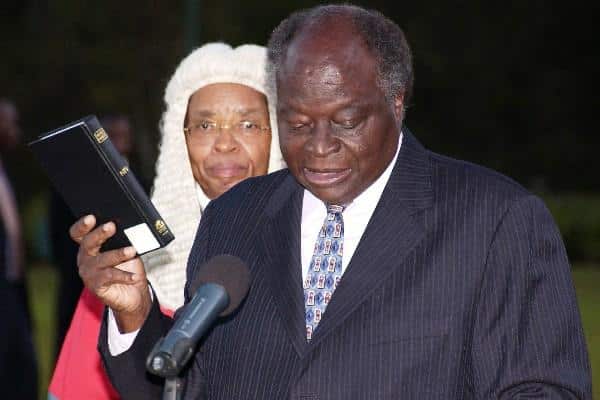 NAIROBI, Kenya, Jul 5 – A man was arrested with two grenades on Thursday as he tried to sneak into the Nakuru Agricultural Show Ground just moments before President Mwai Kibaki arrived at the scene.
The suspect was arrested by officers who became suspicious of him during the mandatory checks and screening at one of the entrances.
"He is being interrogated, we don't know what his mission was," a senior police officer in Nakuru said.
The suspect was being held at the Nakuru police station but police said he was set to be brought to Nairobi for further interrogation by Anti Terrorism Police Unit (ATPU) officers.
No senior police officer was willing to speak about the arrest.
Following the arrest, more officers were deployed to the show ground to secure the venue.
Police said they have since established that the suspect had traveled to Nakuru on Wednesday night and spent the night at a local hotel.
Police had also received a tip off about a man armed with grenades in the town earlier in the morning and had been looking for him, according to sources.
Kenya is on a high alert since Al Shabaab militants vowed reprisals to protest the military incursion inside their country.
Speaking at the showground, President Kibaki announced that the Government had mobilised all the necessary resources and manpower to hunt down terrorist groups and criminal gangs destabilising the country.
President Kibaki said his government will stop at nothing to ensure the country's security is safeguarded and vowed the war on Al Shabaab militants in Somalia will continue.
"We will not relent in the pursuit of the country's enemies," President Kibaki said when he opened the Nakuru ASK Show.
"We will not be intimidated by terror attacks on innocent civilians aimed at spreading fear and panic," he said.
On Sunday, 17 people were killed in twin blasts that rocked the AIC and Catholic Churches in Garissa, in what is blamed on Al Shabaab militants which have already claimed responsibility.
Source:capitalfm.co.ke
Man nabbed with grenades at Kibaki function