Orange Democratic Movement (ODM) chairman Henry Kosgey back in Cabinet
Orange Democratic Movement chairman Henry Kosgey back in Cabinet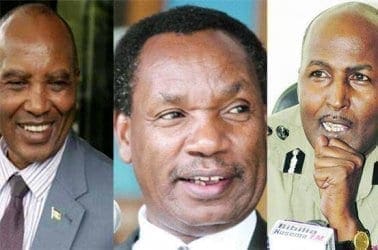 NAIROBI, Kenya, Aug 10 – President Mwai Kibaki has re-appointed Tinderet MP Henry Kosgey to the Cabinet.
Kosgey, who has been out of Cabinet since January 2011, resumed duties at the Industrialization Ministry after he was cleared of criminal charges relating to a car imports scandal.
A statement from the Presidential Press Service said: "President Mwai Kibaki has today re-appointed the Hon. Henry Kosgey into the Cabinet. Hon Kosgey resumes his duties at the ministry of Industrialization with immediate effect."
Following accusations of abuse of office, Kosgey wrote to President Kibaki and Prime Minister Raila Odinga on January 4, 2011 offering to "step aside," to clear his name.
In June, Justice Nicholas Ombija terminated the charges against Kosgey ruling that the case was an error in law, and instigated by bad blood between him and the then industrialisation Permanent Secretary Karanja Kibicho.
"I have also prohibited any magistrate in Kenya from hearing the abuse of office case against Kosgey as he could not have committed any offence because the legal notices said to have breached were not adopted by the National Standards Council until April 2011," Justice Ombija ruled on June 28.
Kosgey had moved to the High Court seeking to have his corruption case over alleged irregular car imports quashed.
Through lawyers Fred Ngatia, Kioko Kilukumi and Julius Kemboy, he said that lawyer Patrick Kiage who prosecuted him had no legal authority to do so, since he was not gazetted by the Attorney General as a Special Prosecutor.
The minister was accused of exercising discretion as a Minister for Industrialisation without seeking advice from National Standards Council but he denied the 12 counts of abuse of office.
At the time when he opted out of the Cabinet, Kosgey was also facing possible charges at the International Criminal Court for his suspected role in the deadly electoral dispute that saw more than 1,300 people killed after the 2007 presidential poll.
The charges were dropped in January this year by the Hague-based court.
Kosgey's name has been fronted as a likely replacement for Minister Musalia Mudavadi as the Orange Democratic Movement's (ODM) Deputy Party Leader after the latter decamped to a new political outfit earlier this year.
Kosgey has also been recently campaigning to be Raila Odinga's running mate in the next General Election.
Source-https://www.capitalfm.co.ke/