Joyce Akinyi's Estranged Husband Anthony Chinedu Deported
Joyce Akinyi's Estranged Husband Anthony Chinedu Deported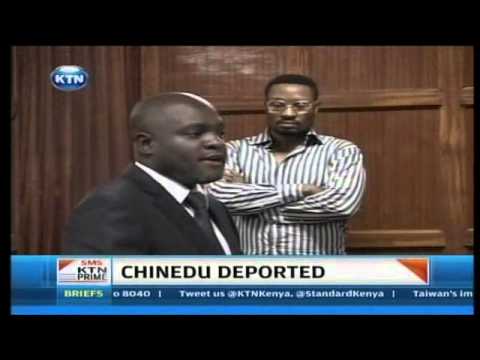 Nairobi, Kenya: Controversial Nigerian businessman Anthony Chinedu who has been facing criminal charges has been deported from Kenya.
Chinedu is among six Nigerians who were deported on Monday from Jomo Kenyatta International Airport for being in the country illegally.
They were arrested from their houses on Sunday night in a police operation following reports they were involved in "dirty" businesses.
Sources at JKIA said they were all put on an international airline after being warned against being violent if and when they are there.
"Five of them have been deported and they are no longer in the country," said a senior security official at the airport.
Nairobi Area head of CID Nicholas Kamwende confirmed the deportation.
Chinedu was facing a number of criminal cases and was in April arrested in his house with 10 grammes of heroin that he is believed to have either been using or intended to traffic.
The arrest followed an operation carried out in the city centre in which two men including a Nigerian national were nabbed for trafficking heroin.
The men were identified as Nelson Namunyu Mwangi who was found with 268 grams of heroin and Nigerian national Adebiyi Oluwatosin Fatai who had 20 grammes of the drugs.
They were arrested outside a popular club with the narcotics. Police say the two have been behind several incidents of drug trafficking in the city and they were expected in court again on Monday for mention of their case.
Cases of narcotics consumption are on the rise in the city and police are grappling with the situation.
Officers who were involved in the operation said several other mules managed to escape as they approached the scene. A major operation has been organised to nab the traffickers who are on the lose in the city.
Property
Chinedu has been embroiled in a tussle over control of property with his estranged wife Joyce Akinyi and had asked the court to wind up their business in the city and the proceeds shared between them.
The rival couple has court cases relating to their various properties and custody of their two children.
Chinedu has also in the past fought deportation charges by authorities and succeeded.
Akinyi had in 2010 asked for the deportation of Chinedu on grounds that he was a danger to Kenya.
She wrote asking that "swift action will be taken to ensure Kenyans are safe from any activities that Chinedu is alleged to have been involved in".
There are close to seven cases between Akinyi and Chinedu pending in court.
Former Immigration minister Gideon Konchella on June 19, 2007 directed that Chinedu be deported because he "is one of several foreigners in this country involved in the commission of serious crimes involving trade in narcotics and money laundering".
However, Chinedu moved to court on June 13, 2008 to stop his deportation.-standardmedia.co.ke