UHURU TAKES HIS COOKS, LAMB CHOPS ON CHINA TRIP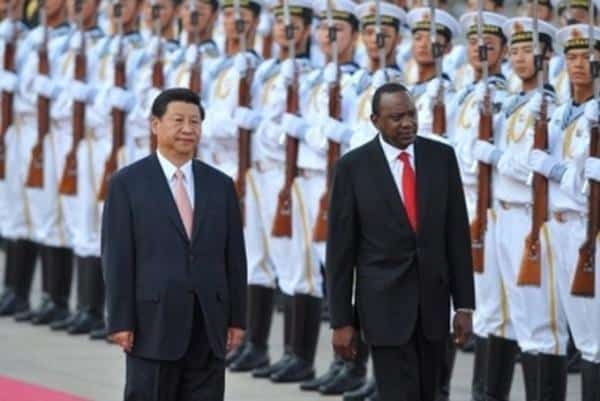 President Uhuru Kenyatta's catering team that flew to China prior to his departure on Wednesday morning took his favourite food along with them. Lamb chops, beef steak, fish and Fanta orange were in the travelling bags of the advance team.
Unlike his predecessor, Mwai Kibaki, who steered clear of red meat preferring chicken and fish, Uhuru does not like poultry. Sources close to the catering department at State House revealed the President does not leave the country without his chefs.
One caterer who does not work at State House but has in the past travelled with the former and current president said it is difficult to find the foods that Uhuru prefers in Asia.
"We used to carry food whenever we learned that we cannot find it in the host country. China is tricky and the President's team must have carried his favourite lamb chops, which are always served with mukimo, roast potatoes, rice or ugali," he said.
On Tuesday morning, a senior government official is reported to have made a call to The Stanley hotel to order the food. "Please include lots of fish," the official is said to have instructed.
The the total amount of the food ordered, and which was billed in US dollars, came to $80,000 (Sh7 million). The source said since Uhuru was sworn in, he served him dinner once before State House commissioned its full food and beverage unit.
"Uhuru takes tea in his house in the morning. I have never served him tea for breakfast. Perhaps, he prefers to eat his wife's food," he said. He said the State House's food and beverage department can serve a maximum of 250 people. If there are more guests than that, the official caterers, The Sarova Stanley, take over.
Kibaki liked to drink Keringet water or mango or cocktail juice after a meal, our source said. "For breakfast, President Kibaki loved Weetabix cereal, croissants, tea and fruits. Kibaki is mindful of his health. We would bear this in mind when cooking for him," he said.
Yesterday, the management at The Stanley said they are excited to be the official caterers of State House. "It is an honour to cater for the President. You must be consistent and be sure of what you are doing. There is no room for mistakes. We did catering during President Kibaki's time and we will also do it well for President Uhuru," said Ben Katungi, the hotel's food and beverage manager.
He declined to comment on the Uhuru's menu for the China trip. The President's official visit to China, which runs from August 19 to 23, will be dominated by discussions on business and investment.
A business delegation of more than 60 people will join Uhuru on this leg of his tour. Nairobi Governor Dr Evans Kidero jetted out yesterday to join the President's entourage.
While in China, Uhuru will sign deals on a power transmission project for Nairobi as well as other agreements on economic and technical cooperation. The President is also expected review a number of projects under discussion between the governments of Kenya and China.
Key among these are the $2.5 billion construction of a standard gauge railway from Mombasa to Malaba and the $1.75 billion multi-purpose dam, which is central to regional development plans.
On his way to China, Uhuru yesterday visited Russia where he encouraged more Russian businesspeople to invest in Kenya. He said Kenya is strategically located as a gateway to the East and Central Africa region.
The President said due to its strategic location, Kenya has emerged as the regional economic, trading and investment frontier. He was speaking in Moscow  during a meeting with the Chamber of Commerce and Industry of Moscow.
"I welcome Russian investors to take advantage of our strategic location as the gateway to the East African Community and the common market for Eastern and Southern Africa – which has a combined market potential of over 400 million people," he said.
Uhuru also hosted a luncheon for the Kenyan team to the World Athletics Championships. He pledged more support for the Kenyan sportsmen and women.
Saying Kenyans are proud of their achievements, the President termed Kenyan athletes as gracious ambassadors of the country. He said every Kenyan celebrates their success.
UHURU TAKES HIS COOKS, LAMB CHOPS ON CHINA TRIP