Muthaura back as Uhuru appoints 26 heads of Parastatals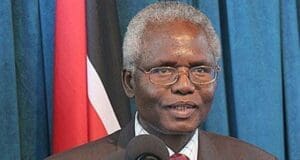 Kenya: Former Head of Public Service Ambassador Francis Muthaura is back in government.
Muthaura is the new chairman of the LAPSSET Corridor Development Authority with effect from January 2014. Muthaura's appointment is contained in a special gazette notice (vol. CXV – No. 182) dated December 27, 2013. In the gazette notice, President Uhuru Kenyatta has appointed 26 heads of parastatals. Among those appointed include former MPs and retired civil servants.
Former Marakwet East MP Linah Kilimo will head the Anti Female Genital Mutilation Board for three years starting next month. Also bouncing back is former Kibwezi MP Agnes Ndetei who will chair the National Drought Management Authority Board. Philip Kaloki, a former MP from the same constituency who unsuccessfully vied for governorship of Makueni County in the March elections, will now head the Kenya Medical Training College Board.
Matu Wamae has been reappointed as chair of the New Kenya Cooperative Creameries for a further period of three years, while Col Geoffrey Kingangi will head the National Cereals and Produce Board. The appointments, which take effect from January 14, will also see Terry Ryan take over as chair of the Kenya National Bureau of Statistics, while Taraiya ole Kores will chair the Kenya Meat Commission.
The new chair of the Board of Directors of the Consolidated Bank is Benson Ateng, while Mr Mohamud Mohamed Ali will now chair the Board of the National Hospital Insurance Fund. Sam Kona will head the Kerio Valley Development Authority, while former Makueni MP Peter Kiilu will chair the Water Resource Management Authority.
The Lake Basin Development Authority and the National Water Conservation and Pipeline Corporation will now be headed by Onyango Oloo and Julius Kones, respectively. Mr Abdul Bahari takes over as chair of the Tana and Athi River Development Authority, while Joseph Musebe steps in as chair of the Kenya Broadcasting Corporation.
Kitambi Digore will head the Kenya Maritime Authority while Sammy Tangus takes over as chair of the Postal Corporation of Kenya. Mr Edwin Yina is the new chair of the Kenya Information and Communication Board of directors. Samwel Nyageso will chair the Kenya National Library Services Board, while Sam Njonde and Peter Kinya will head the National Sports Fund Board of Trustees, and the Kenya National Trading Corporation respectively.
Kenneth Sigilai will chair the Kenya Electricity Transmission Company, while Titus Ibui is the new chair of the Kenya Leather Development Council Board. The Geothermal Development Company will be chaired by Simon Gicharu, while Daniel Kiongo takes over as chair of the Kenya Pipeline Company.
-standardmedia.co.ke