Turning 99 Dollars Into a Shamba
is actually possible.
The Relationship Bank has come up with a solution for this. If you have 99 dollars every month (this is if it is not more than 75% of your disposable income) then you can be on your way to owning a shamba back home in under 5 years.
It's pretty simple.
All you have to do is identify the piece of land you want to buy, open a Chase Bank Diaspora account (with USD remittance for the monthly payments) and we will do the rest.
Interested? Check out the page here, and fill in the forms.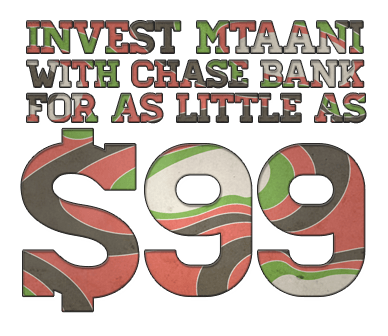 http://www.chasebankkenya.co.ke/investmtaani/index.php#diaspora