Jomo Kenyatta and Nelson Mandela: Birds of a feather
Were there similarities in Jomo Kenyatta and Nelson Mandela's ideology?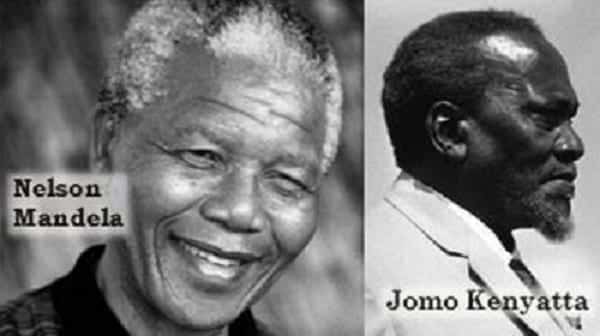 NAIROBI, KENYA: South Africa's first black President Nelson Mandela and Kenya's first President Jomo Kenyatta may have died 35 years apart, but they were ideologically birds of a feather, separated only by physical distance.
And as the world mourns the demise of the iconic South African hero, here in Kenya many cannot help but reflect on the founding father and the political fate of those who were in the liberation struggle alongside Mzee Jomo Kenyatta. "Initially, there was a great similarity in the way citizens viewed both leaders as symbols of their separate countries' struggle. And admittedly Mandela severally conceded that they learnt a lot from their Kenyan counterparts, especially from the Mau Mau fighters," observes historian, Prof Macharia Munene.
It is because of the combative Mau Mau approach, says Munene, that Mandela dropped diplomacy and embraced a tougher approach by forming Umkhontho we Sizwe, the military wing of ANC. And for separately standing firmly against their separate racist governments, Mandela and Kenyatta were tagged "terrorists". However, Prof Amukowa Anangwe, who teaches political science at University of Dodoma, Tanzania, lists Mandela's humbling dealing with the South African racist regime as the key borderline that separates the style and greatness between the two leaders.
"Although upon release from jail both leaders forgave their tormentors, Mandela went the extra mile. He did not touch or grab the expansive farmland owned by the whites, as did (President Robert) Mugabe of Zimbabwe. Mandela even set up a Truth and Reconciliation Commission to unite the Rainbow nation," says the former Cabinet minister. Munene, who teaches History and International Relations at the  United States International University concurs.
The reconciliation mood, he says, was not just limited to his former tormentors in Government, but Mandela also treated his political rivals humbly when he was President. "For instance, he occasionally allowed his bitter rival (Mangusuthu) Buthelezi, of Inkatha Freedom Party to stand in as acting President when he was overseas on official duty.
This gesture humbled Buthelezi and even destroyed him politically," observes Munene.  Same as Mandela, "Mzee", as Kenyatta was fondly referred to, had a ring of comrades in the Kenyan struggle, including the Kapenguria six – Paul Ngei, Achieng' Oneko, Fred Kubai, Bildad Kaggia and Kung'u Karumba.
Others, but who were not jailed and tried in Kapenguria alongside Kenyatta for going against the State of Emergency declared by the then colonial Governor, Sir Evelyn Barring, were Jaramogi Oginga Odinga, James Gichuru, Tom Mboya, Ronald Ngala and Mwai Kibaki. Of course there were many more players in the struggle, including some of Asian origin as Pio Gama Pinto, among others.
Somewhere along the way, though, their political careers stumbled or they fell out of favour with the establishment.
And except for Kenyatta, who rose to become President, most of those who fought alongside him fell by the wayside. Of the Kapenguria six heroes, only Ngei and Oneko worked with the President in his Cabinet. Kubai and Kaggia served briefly as Members of Parliament assistant minister, while Karumba exited politics to do trade in Uganda.
Nonetheless, Mzee accommodated other players, key among them Jaramogi, who spearheaded the release-Kenyatta-campaign with chants of "No Kenyatta, No Independence". Also in key positions with Odinga, who was named first Vice President, were Mboya, Ngala, Gichuru and Kibaki.
Political careers By the time he passed on in 1978, though, most of his comrades had either died or their political careers had been terribly derailed, as was the case with Odinga, Kaggia, Kubai and Oneko. Kibaki was still on course and he assumed the position of VP, then occupied by Daniel arap Moi, who rose to the position of President.
Kibaki got his turn in 2002, after taking over from Moi before handing over the baton to Mzee's son, Uhuru, in March this year. Down south, however, the power changeover has remained within the hands of active former freedom fighters.     Key players, including Mandela, Govano Mbeki, who is the father of the country's second black President, Thabo Mbeki, current President Jacob Zuma and VP Kgalema Motlanthe, are all decorated anti-apartheid heroes.
Other players, including Walter Sisulu, Oliver Tambo and Winnie Madikizela, held influential positions in the giant African National Congress (ANC). Anangwe attributes this smooth power handover to the astuteness of Mandela and the ANC that has ensured power remains only in the hands of moderates and not extremists.
"It is for this reason that the likes of Cyril Ramaphosa was eased out of the succession plan and why the youthful former ANC leader Julius Malema is in trouble. Zuma and Mbeki were on the succession line only because they had become less radical and so was Mandela who was more malleable after leaving prison in 1990," he says.
-standardmedia.co.ke
Were there similarities in Jomo Kenyatta and Nelson Mandela's ideology?