Archbishop Desmond Tutu launches new SA Gay political party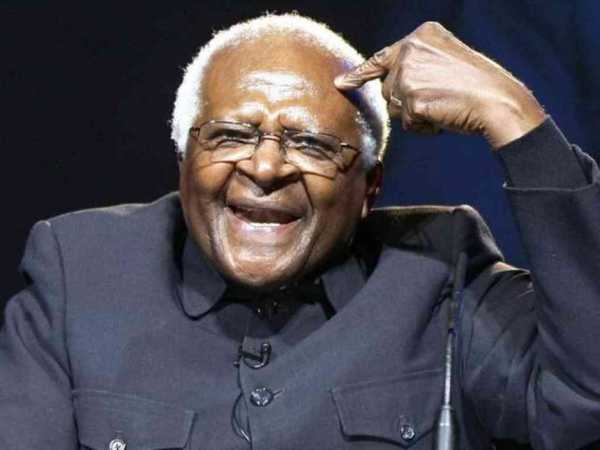 CAPE TOWN – As South Africa heads for nail-biting 2014 general elections Archbishop Desmond Tutu has pulled up a suprise by announcing the formation of a Gay political party called Democratic Religious Alliance Against Minority Antagonism (DRAAMA)
South African general election will be held on a date in April–July 2014 to elect a new National Assembly, as well as new provincial legislatures in each province. It will be the fifth quinquennial election held under conditions of universal adult suffrage since the end of the apartheid era in 1994.
"I would refuse to go to a homophobic heaven… No, I would say sorry, I mean I would much rather go to hell… I would not worship a God who is homophobic and that is how deeply I feel about this."
This is a statement from Nobel Peace Prize laureate and South African archbishop emeritus Desmond Tutu, who added that he does not believe religion provides justification for homophobia. His passion on the issue has led him to form the world's first gay political party affectionately named 'DRAAMA', an acronym for Democratic Religious Alliance Against Minority Antagonism [D.R.A.A.M.A].
Tutu, who is one of the Western World's most respected men and Christians, says the formation of his new political party was to redress the issue which he feels president Jacob Zuma 'tiptoes' around.
"The first and last time we ever heard president Jacob Zuma addressing issues around anti-homophobia was when he had to make a public apology regarding a damaging statement he made about this minority group," Desmond Tutu told reporters.
In a media statement released this morning, DRAAMA is set to be at the forefront of minority human-rights issues the current ruling party has dragged its feet in addressing. True to its name, this is certainly not going to be your ordinary political party famous for making false promises. With gay socialite and choreographer Somizi Mhlongo being poached as the party's spin doctor, South Africans should brace themselves for a lot of DRAAMA!!!
"I was pleasantly surprised upon receiving a call from the honorable Archbishop Desmond Tutu informing me of his intentions and his request for my involvement thereof… I was expecting the party to approach the likes of Aunty Eusebius McKaizer…" explained Somizi Mhlongo.
IEC has confirmed that DRAAMA has been included on its ballot papers and supporters will be able to vote for this gay party on its forthcoming national elections.
In its colourful draft manifesto, the party will also seek to make polygamy amongst gay men a 'democratic right' in order to 'tone-down' the alarming level of unfaithfulness endemic in homosexual relationships. G.E.E (Gay Economic Empowerment) transformation will also be at the forefront of what the party seeks to achieve, ultimately making it a prerequisite for corporate South Africa to have gay representation across the board.
In a quest to rival EFF's red berets, DRAAMA's signature look will be "leathers and feathers" in electric pink. Flamboyant fashion designer, David Tlale, has been commissioned to create the party's look in true avant-garde style.
A formal press conference will be held later this week to officially announce the formation of the party and what it stands for. Start your engines EFF and Agang – it seems DRAAMA is on its way!!
Before his election as South African President Jacob Zuma was forced into a re-treat and apologised after offending the gay community.
He was quoted as saying that same-sex marriages were "a disgrace to the nation and to God".
He also said that when he was a young man, he would have knocked down any homosexual person he met.
Across the border Mugabe has condemned South Africa for their stance on gay rights, claiming that they should not be upheld as they are not human rights.
"Gays and lesbians are worse than pigs and dogs. We cannot allow our children to be worse than wild animals," Mugabe said during a political rallylast year.
"My remarks were made in the context of the traditional way of raising children… I said the communal upbringing of children in the past was able to assist parents to notice children with a different social orientation," Mr Zuma said in his apology.
"I however did not intend to have this interpreted as a condemnation of gays and lesbians."He also said he respected the "sterling contribution of many gay and lesbian compatriots in the struggle that brought about our freedom".The homosexual lobby organisation Joint Working Group said Mr Zuma's comments were a "form of hate speech"."It would seem Jacob Zuma still has a lot to learn about leadership… How can a narrow-minded person like this be expected to lead our nation?" the group said.South Africa's constitution bans discrimination based on sexual orientation and the government is considering legalising same-sex marriages after a court ruling that the ban was illegal.But some in the gay community did feel that his was a "false apology"."It's one of those spin pieces designed to smooth ruffled feathers," Donna Smith, chief executive officer of the Forum for the Empowerment of Women (FEW), a black lesbian organisation in Johannesburg, told the Mail & Guardian Online.In his statement, Zuma said his words over the weekend were interpreted in various ways and may have hurt and angered the gay community, but that they "were made in the context of the traditional way of raising children"."I said the communal upbringing of children in the past was able to assist parents to notice children with a different social orientation," Zuma said."I, however, did not intend to have this interpreted as a condemnation of gays and lesbians."Smith feels, however, that the statement falls short of a genuine apology, with Zuma "not apologising for the statements themselves but for feelings they may have caused"."It's not about interpretation, [his words were] a clear advocation of discrimination," Smith said "Unless he's denying that he said homosexuals shouldn't marry … and homosexuals can't stand in front of him."Gays and lesbians have won several major court battles based on the constitution's sexual orientation clause since 1994. They have overturned the sodomy law, ended discrimination against homosexuals in the military, and won the right for immigrant partners of gay men and women to live and work in South Africa.South Africa since self-black rule after apartheid is now in many respects a gay-friendly place to be. It is the home of a new Gay and Lesbian Alliance Party, an openly gay Supreme Court judge, and Archbishop Desmond Tutu, who publicly supports the rights of homosexual priests.Although there is more open public support for the gay community in post-apartheid South Africa, there are still those who are opposed to the whole idea of homosexuality.Meanwhile, in Zimbabwe the country's main gay rights group on Tuesday scored a court victory against the police who were ordered to return property seized during a raid in August 2012.The raid on the Harare offices of the Gays and Lesbians of Zimbabwe (GALZ) came shortly after the group had published a report detailing violations against its members.Harare police accused the group of operating without registration and of possessing material that promotes homosexuality.They arrested and assaulted 44 members who were at the organisation's Milton Park offices and seized computers, DVDs, pamphlets, booklets, CDs, and other documents as they searched for evidence of pornography, which they did not find.Although the 44 were released the next day, over the following weeks police tracked them to their homes, workplaces, and in the process "outed" them, resulting in some losing their jobs, homes, or being shunned by families.Following an unsuccessful petition to the Harare police for the return of the confiscated property, the group then took the matter to the High Court.On Tuesday, Justice Priscilla Chigumba ruled in favour of the rights group, and ordered the police to return property.In her ruling, the judge also said the group's activities were not covered by the Private Voluntary Organisations (PVO) Act and as such, they are not legally required to register under that law."We are glad that the courts have spoken and we now wait to see whether the police will return our property as decided by the court," Chesterfield Samba (picture), the director of the rights group told Tuesday."However we think it was unnecessary for us to have to go through the courts to assert our rights to property.""The police have been reluctant to release our material despite the fact that they had not found any incriminating evidence against our group based on the warrant that they had at the time of the search."Samba said police were also arguing that returning the seized property would give the group the resources to continue to operate 'illegally'."But the judge's ruling today spells out that our group does not need to register as its work doesn't fall under the PVO Act," Samba said.In the past, this piece of legislation has been used by the police and the ruling ZANU PF to stifle freedom of speech and to persecute civil rights campaigners.Tuesday's High Court ruling is important for the group as it is likely to influence the outcome of another case in which the group's chairperson Martha Tholanah is charged with running an illegal organisation.The matter is set to be heard at the Harare Magistrates' Court on January 29th.Homosexuality is not banned in Zimbabwe but the country's gay community continues to face politically motivated attacks, including from the country's President Robert Mugabe who famously labelled them "worse than dogs and pigs".During the 2013 constitutional outreach programme, the majority of Zimbabweans said they were opposed to gay rights being specifically enshrined in the country's new charter, which was adopted last year May 22nd.Rights campaigner Samba said members of the Zim gay community are attacked daily in what he says is a State-sponsored campaign, which involves political leaders and the security forces."Unwanted African politicians instigate attacks on vulnerable groups such as ours to further their stay in office while deflecting attention from real issues faced by their citizens such as unemployment and poverty," Samba said.The Zimbabwe Human Rights Lawyers, representatives for the gay rights group, issued a statement following their court victory.-thezimbabwemail.com
South African cleric Desmond Tutu wants 'option of assisted death'
Marriage only between a man and a woman says Archbishop of York
Archbishop Desmond Tutu launches new SA Gay political party