URP PLOTS TO IMPEACH WAIGURU OVER RUGUT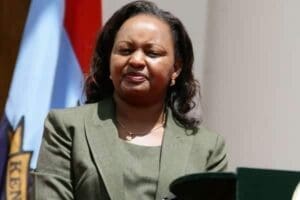 Deputy President William Ruto's party URP is plotting to introduce a motion to impeach Devolution Secretary Anne Waiguru. The MPs behind the scheme have been speaking to individual URP MPs as well as some from other parties as they ramp up support for the motion even before it is tabled in Parliament. The move could strain relations between the Jubilee coalition partners.
The legislators are furious with the Cabinet Secretary for, among other things, removing National Youth Service Director-General Kiplimo Rugut via a text message. Waiguru transferred Rugut to the Ministry of Sports in a move that has upset URP members. Rugut was replaced by a civilian, Nelson Githinji.
Yesterday Igembe South MP Mithika Linturi confirmed the plot and said Waiguru had violated the law by replacing Rugut. "The debate on Waiguru's impeachment has been very rife in Parliament and there are many of us who believe that the minister violated the law and never afforded Rugut an opportunity to defend himself against whatever allegations that existed," Linturi told the Star.
Linturi said that those pushing for the impeachment were drawn from all parties in Parliament."This is not a URP or TNA matter. It is a mater of national importance that calls on Parliament to play its rightful role of oversight. Ministers are answerable to Parliament and we will be exercising our mandate according to the Constitution when this matter comes to the floor," said the TNA MP. With the powerful and expansive docket of Devolution and Planning, Waiguri is easily the most powerful Cabinet Secretary.
According to a presidential circular issued on May 29, 2013, President Uhuru granted Waiguru's Ministry greater responsibility under a new Organisation of Government structure.
Executive Order No. 2 of May 2013 listed over 30 functions for the new Ministry, with additional responsibility over 15 Semi-Autonomous Government Agencies and 10 Constitutional Commissions and Independent Offices.
According to Article 152 (6) of the Constitution, any MP can introduce a motion to impeach a Cabinet Minister for, among other things, violation of the Constitution. "If the Motion is supported by at least one-third of the Members of the National Assembly –
(a) the Assembly shall, within seven days, appoint a select committee comprising eleven of its Members to investigate the matter; and (b) the select committee shall, within ten days, report to the Assembly whether it finds the allegations against the Cabinet Secretary to be substantiated," says Article 152(5). If Parliament approves the report then the President will have no choice but to fire the Cabinet Secretary.
At the weekend a group of URP MPs from Rift Valley challenged their party leader Ruto to state his position on Rugut's sacking. The leaders claimed that six members of the Kalenjin community had been sacked from senior government positions in the last eight months under mysterious circumstances, yet the Deputy President had remained silent.
Four lawmakers, Nandi MP Zipporah Kering, Nandi-Hills MP Alfred Keter, Alexander Kosgey of Emgwen and his Chesumei counterpart Elijah Lagat, declared that enough was enough.
Speaking at Kapsabet Girls' High School during Nandi Central Prize-giving Day on Saturday, the leaders said all Rift Valley MPs had taken common ground regarding Rugut's case.
"How come when he was fighting the Mungiki menace in Central region he was a good person and then, after presenting a proposal to the Chinese government for funding, he was found to be unfit to manage funds he had solicited?" Keter asked.
"It would have been fair that the positions be given to other deserving Kenyans among the 42 communities…what we are witnessing is selfish tribal interests being played out; it is unacceptable in the modern society," Lagat told the meeting.
Kapseret MP Oscar Sudi said he cannot continue to be associated with an alliance that does not embrace nationhood in appointments of its leaders. "We were surprised to be told that the new boss of NYS was sworn into the office immediately after Ruto boarded the plane to go to The Hague", said Sudi on Saturday, when he officially opened a bridge in his constituency at Nganiat.
– the-star.co.ke