Funny throwback photo of Baba's Son, Odinga Junior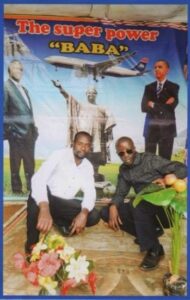 Raila Odinga Junior, the Former Prime Minister's youngest son may have been born with a silver spoon in his mouth but he still had to hit the photo studio to have a photo taken.
There are throwback photos but this one is in a class of it's own. Back then when posing with plastic flowers was the in thing and camera phones were not as popular, Baba's son had a photo taken of himself with a friend with a huge banner of the Super Power Baba in the back ground.
Perhaps we should introduce a 'studio photos' trend, I'm sure we would have a lot of interesting photos just like this one.
-nairobiwire.com