Three traffic police officers killed at illegal roadblock in Kajiado
Three traffic police officers killed at illegal roadblock in Kajiado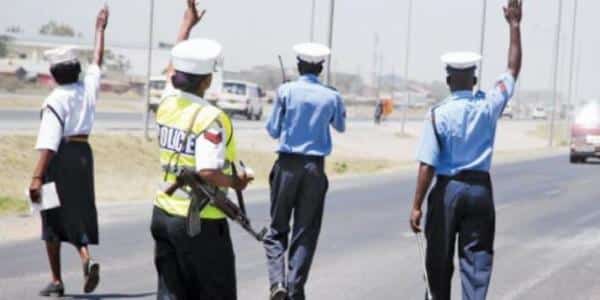 Three policemen were knocked down by a speeding motorist on Tuesday night on Emali-Loitokitok road. The three policemen were manning a "roadblock" about 14 kilometers from Emali town during the 9 pm grissy accident that left the officers dead on the spot.
A witness said the motorist is a foreigner and was not aware of the police roadblock. The motorist was driving from Loitokitok side.The officers were attached to Mashuuru police division.
A senior police officer who sought anonymity told the Star the roadblock is not gazetted. It is not clear why the police officers have erected the roadblock over 90 kilometres away from Mashuuru divisional police headquarters.
"The Mashuuru OCPD has been cautioned severally against erecting the roadblock. The officers at the roadblock cover almost 52 kilometres from Mashuuru to Sultan Hamud. Another 25 kilometres from Sultan Hamud to Emali and about 14 kilometers from Email to the scene of accident," the source said.
The roadblock is jointly manned by both regular and administration police. A source told the Star that hunger for bribes has motivated the illegal roadblock. Mashuuru police boss (SP)Gregory Muganda did not reply to a text message sent to him Tuesday night.
Deputy Inspector General of police Grace Kaindi denied that the officers were manning a roadblock adding that the officers were killed when a car "rammed into their house."
"The officers were not manning a roadblock. They were in their house when a motorist lost control and rammed into the officers' house." Kaindi said. There are is however no police line in that particular area where the accident occurred.
Motorists and passengers have been complaining of harassment by police officers manning the road block. A witness said the officers demand that passengers produce their national identity cards once at the roadblock or a Sh2000 "fine".
A senior police officer who asked not to be named said the officers at the roadblock have no authority to demand for identification documents without the presence of immigration officials.
"It is a mere tactic to extort passengers," the police officer said. Last month when the Star contacted Muganda about the roadblock he said, "Kama unataka futa askari wote." (You can sack all the officers if you want), Muganda said on phone.
Three traffic police officers killed at illegal roadblock in Kajiado