Willis Raburu's Sh100,000 Engagement Ring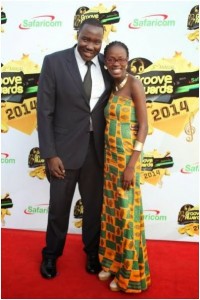 Citizen TV's Willis Raburu has spoken about his engagement to his girlfriend and colleague Sally Mbilu.
The popular TV personality was speaking the The Nairobian when he revealed that the ring he used to propose to his girlfriend of one year cost him over Sh 100,000.
"Well, I don't want to reveal much but it was a Tanzanite and cost over Sh100,000," he revealed.
Being the romantic he is, he proposed to Sally at the venue where they had their first date.
"It was at a waterfall, where we had our first date. She was extremely shocked and had mixed reactions, but I was very confident that she would say yes," Willis said.
Sally on her part chose to remain silent on the issue.
"I'm a very private person. I prefer not to say anything about this," she said.
The wedding is slated for early next year as dowry negotiations are underway.
Here's a photo of that Tanzanite ring
-http://nairobiwire.com/