President Uhuru appears for ICC hearing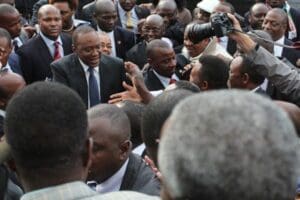 President Uhuru Kenyatta on Wednesday appeared for a "status conference" hearing on his case at the International Criminal Court.
A crowd of supporters had welcomed the President at the International Criminal Court on Wednesday morning as he arrived for the hearing on the case facing him at the court.
The members of the crowd, some of them wearing caps and scarfs in the colours of the Kenyan flag, jostled to greet the President as he arrived at the court grounds.
He is attending the conference in his private capacity, having temporarily handed powers to Deputy President William Ruto, as the acting President, for the duration of the conference.
The President is accompanied for The Hague trip by his wife Margaret and his daughter Ngina. More than 30 MPs have also travelled there to show solidarity with the Kenyan leader.
The judges at the ICC have said the case, which was originally scheduled to begin on October 7, had reached a "critical juncture" while calling for the status conference.
ICC Prosecutor Fatou Bensouda on Wednesday said the case was "deadlocked" and couldn't proceed without key documents she claimed that the Kenyan Government had refused to provide her office, a claim that was denied by Attorney-General Githu Muigai.
The aim of the status conference is to address matters arising from Bensouda's request for an independent adjournment of the case because of insufficient evidence.
On Wednesday, while seeking the indefinite adjournment, the prosecution asked judges to consider applying sanctions against the Kenyan government for for its failure to cooperate in providing key documents relevant to the case against President Kenyatta.
President Kenyatta's lawyers have sought for the termination of the case.
He faces five counts at the ICC over his alleged role in orchestrating the 2007-2008 post-election violence that left 1,200 people dead and 600,000 displaced.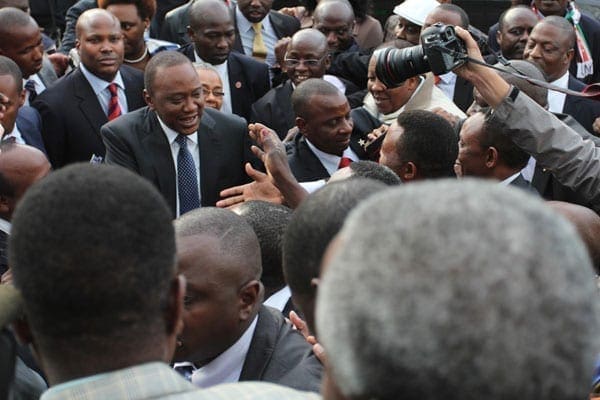 President Uhuru Kenyatta arrives at the International Criminal Court on October 8, 2014 where he faces five counts of crimes against humanity for allegedly orchestrating the 2007-08 post-election violence.
nation.co.ke