Raila Odinga criticises William Ruto's fanfare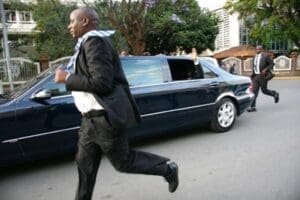 The appointment of Mr William Ruto as acting President was a non-issue and a waste of money, Cord leader Raila Odinga said on Tuesday.
Mr Odinga questioned the rationale behind the government spending huge amounts money to ferry MPs from across the country to attend the special session of Parliament and witness the hand-over ceremony at Harambee House.
"It was a non-event. The Constitution expressly provides that when the President is out of the country or indisposed, the deputy acts so there is no vacuum.
"Even when he was in the US recently, it was assumed that the Deputy President was in charge. Why do you summon MPs to Nairobi to witness the fanfare of riding in the presidential limousine?" Mr Odinga asked.
He gave the example of post-apartheid South Africa's founding father Nelson Mandela, who would pick either of his two deputies to act as president whenever he was ill or abroad.
"Mandela would just make an announcement. It does not warrant the type of fanfare we were treated to," the Cord leader added.
The special session of Parliament was snubbed by many Cord MPs, who argued that it had not been convened in accordance with the Standing Orders.
Cord co-principal Moses Wetang'ula told a rally in Nairobi at the weekend that the minority leader in Parliament had not been consulted over the decision.
The Bungoma Senator also said Mr Kenyatta's case at the ICC was private matter.
Mr Odinga left for the US on Tuesday night for a three-week tour. He will give lectures in different institutions.
-nation.co.ke