Governors, assembly forum in joint push for more funds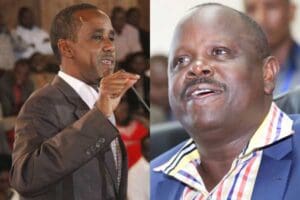 The Council of Governors and the County Assembly Forum (CAF) are working on ways of ensuring increased funding to county governments.
In a joint communiqué read by the County Assembly Forum Chairman Nuh Abdi, the two groups agreed that the current budgetary allocation was not sufficient and needed to be increased.
"The modalities on how to achieve this is a matter of discussion going forward," he said during a press briefing at a Naivasha hotel Friday.
He said a 10-member committee, comprising five members from the COG and five from CAF, had been formed to discuss various issues, among them how the increased budgetary allocation would be realised.
Dr Abdi said the committee will be also discuss budget ceilings for the counties, describing the county budgets as "being in limbo as currently constituted".
"The sub-committee will also be expected to scrutinise legislation that are retrogressive and a threat to devolution and county government operations, recommending remedies to existing laws," added Dr Abdi.
The 10-member committee will also be expected to look at new legislation coming before Parliament that has to do with devolution and give a common stand on the way forward.
He said the County Assembly Forum needed to be enshrined in law within the Intergovernmental Relations Act and represented in the Intergovernmental Budget and Economic Council, among other intergovernmental bodies.
"We know there is a draft Bill by the COG and the Bill has been re-committed to the county committee that is looking at the amendments to the Constitution before it compiles it reports," added Dr Abdi.
He said the two groups have agreed to meet quarterly or when the need arises to discuss issues affecting devolution and enhance their working relationship.
COG Chairman Isaac Ruto said the newfound working relationship would give a push to the Pesa Mashinani referendum initiative, adding that there was a common consensus on the need to allocate more funds to the counties.
Mr Ruto said the Pesa Mashinani initiative was still on course, with the Bill now being looked into by all the parties.
According to reliable sources, other issues that emerged during the six-hour closed-door meeting included a need to have a standard impeachment procedure and the need for sobriety on the issue of impeachment.
"Some of the elected leaders present felt the multiple impeachment procedures were not helpful and that there was (a) need for standardised impeachment measures," said the insider.
Mr Ruto hinted at the issue, saying what happened in Makueni County could not have occurred had the two parties been engaging on a regular basis, calling the new working relationship healthy for the counties.
The meeting brought together at least 20 governors, more than 40 county speakers and majority and minority leaders from various country assemblies.
nation.co.ke