My son predicted his death-Magu's mother speaks out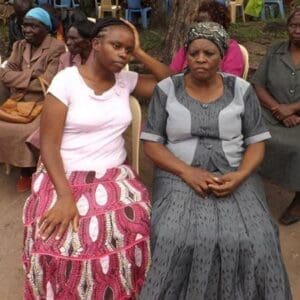 Speaking to The Nairobian at their Thika home, Magu's mother Kezziah Wambui (Pictured) said she believes the death of her son, his wife and the children was as a result of sham religion.
The mother, a primary school teacher in Kiganjo, Thika, alleged that Magu was recruited into the cult by his two friends whom she identified only as Ann and Kariuki.
"My son suddenly became reserved and even stopped coming home to check on us. He became very religious and seemed to live his own life," said Wambui adding that, "My son prayed with Ann at his home on Saturdays. Inside their prayer room was a huge screen where they would lay their hands whenever their prophet preached," Wambui told The Nairobian.
She  said her son used to lock himself up in the prayer room, watch strange movies and read books on spiritual matters for hours sometimes in the company of the of the woman pastor.
The mother said two years ago, her son said he might commit suicide.
"He used to tell me whenever he was stressed that he would either be hit by a lorry or a bus which eventually happened," she said.
She said her son had accumulated a lot of wealth while he worked as a lawyer but had disposed of most of it to fund the 'work of God.'
On the eve of his death, Wambui says she spent the night at Magu's home and left on Wednesday morning.
"He looked disturbed and behaved strangely. He even wore my skirt but we managed to prevail upon him to remove it," the mother said.
Magu's father Samuel Muhiu added that his son made frequent flights to Nigeria.
"He would make trips to Nigeria every month to meet some spiritual leaders. He would not fail to go and no one could convince otherwise," Muhiu said.
Magu's brother Andrew described him as an outgoing but secretive person and a successful real estate businessman.