Video: Boost for Jubilee as Coast leaders leave Cord
Video: Boost for Jubilee as Coast leaders leave Cord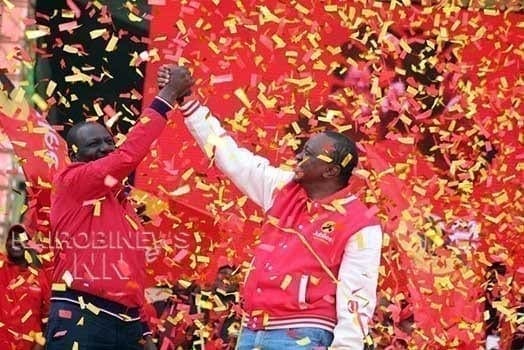 The new Jubilee Alliance Party got a major boost in Mombasa County Sunday when the area Governor Ali Hassan Joho's bitter rival Mr Suleiman Shahbal and former Changamwe MP Ramadhan Kajembe defected from Wiper and ODM respectively.
The defection is likely to rekindle fresh rivalry between Shahbal and Joho whose election has been a long court battle with the former claiming the election was irregular.
Shahbal and Kajembe were welcomed to a rapturous reception at the Mombasa Women Hall where they announced that they will work closely with the government and vie for different seats on the party's ticket in the 2017 General Election.
The JAP national chairman Mr Nelson Dzuya and his vice Mr Daviud Murathe said the defection marked the beginning of a dramatic change of politics for the County and the Coast which was dominated by ODM in the 2013 elections.
Mr Shahbal contested the governor seat and lost ODM's Joho while Mr Kajembe (ODM) lost to Wiper's senator Hassan Omar.
"JAP is the new kid on the block. It is the party that President Uhuru Kenyatta will vie for the second term of presidency in 2017. We are a party that will bring all coalition parties in the Jubilee coalition together," said Mr Murage.
Mr Shahbal said he defected from Wiper because the Cord coalition failed to fulfill promises to coast people.
"Mr James Orengo was lands minister for several years but failed to resolve the squatter issue. During the government of unity between President Mwai Kibaki and Prime Minister Raila Odinga, jobs went to one tribe while coast people were left out. I saw that my aspirations cannot be met in Cord and that's why I left," said Shahbal.
Mr Kajembe who was ODM deputy national chairman and Mombasa County chairman said he defected from the opposition party two weeks ago.
"I want to announce here that I don't want anything to do with ODM anymore. I have joined Jubilee to strengthen it in Coast and to work for the victory of President Kenyatta in 2017," he said.
Mr Shahbal said his dream to change Mombasa still stood and could be realized through JAP whose ticket he promised to use to go for the governor position.
"Change is coming," he reiterated his slogan and said it was shameful that Mombasa County which was the second most important in Kenya performed the worst among the 47 counties according to a World Bank report released last week.
Video: Boost for Jubilee as Coast leaders leave Cord